Tris McCall discovered America. That hardly makes him unique: Tris believes that everybody needs to discover America for themselves. Since this is the place that made him (and you, too, probably), he decided it would be worthwhile to get to know it better. The songs and stories on McCall's Almanac are the fruits of that search – one he began in 2015, when he felt trouble brewing, and which continues to this day.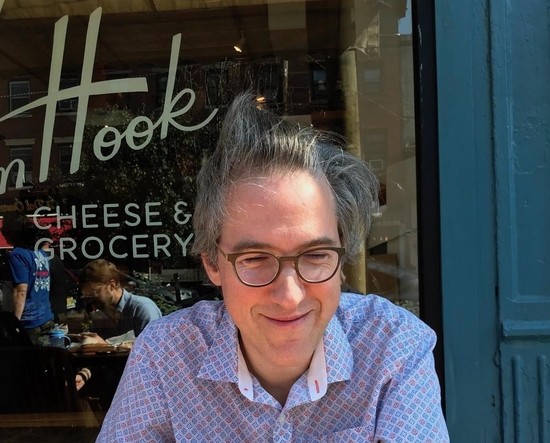 During his journey, Tris sends dispatches. Each page of McCall's Almanac represents a different American city and contains a song set in that city and a short story about the main character of that song, plus photographs, cartoons, and tips for visitors. Right now, the website covers twenty-eight cities, and Tris has plans to visit and write about many more. "The Unmapped Man" corresponds to New Orleans, and the song's narrator is a kid from a small Southern town who has fled to the city to get lost, and maybe found. In his characteristic gentle, allusive manner, Tris uses the tale of "The Unmapped Man" – both the song and the accompanying short story – to approach many of the American themes that have obsessed him throughout the Almanac project: fears of surveillance, heightened sexual ambiguity, the desire to opt out of the digital network, mounting hostility, the anticipation of apocalyptic events, and the desperate need for misfits to find a place where they might fit in.
For Tris, that place has always been urban New Jersey, where he's played in several indie-pop bands, written about popular music and public culture for newspapers and magazines, and stayed involved in regional politics. The Trespassers, his novel, is set in New Jersey; If One Of These Bottles Should Happen To Fall, his first solo record, was subtitled Jersey Songs By Tris McCall. He's been featured in Jersey Beat, the Jersey Journal, and the Jersey City Independent. For more than two decades, he's examined the Garden State, and Jersey readers and listeners have been enriched by their proximity to his songs and stories. With McCall's Almanac, he's broadened his scope and embraced a difficult and troubled nation with the same mix of affection, excitement, attention to detail, and occasional pointed criticism.
"The Unmapped Man" was inspired, in part, by one of Tris's favorite books: The Moviegoer by Walker Percy. That book was set at the midpoint of the twentieth century, and Rob Fitzgerald's graceful lyric video for "The Unmapped Man" is beautifully decorated with vintage footage of Louisiana's biggest city. Fitzgerald brings out New Orleans as a place the narrator of "The Unmapped Man" could love: a weird and alluring place, a haunted place of weary grandeur. He reminds us that to understand where we are, we've got to remember where we've been – and maybe who we've been, too.