"The Fantasy Vocal Sessions Vol. 2," the newest project by Santana keyboard player David K. Mathews, is a tribute to the San Francisco Bay Area where he grew up and still resides, and to the iconic Fantasy Studios, where he recorded most of the project. Mathews has had a long and eclectic career performing with some of the biggest names in music. He toured with Tower of Power for two years, and then spent 20 years accompanying Etta James, right up to her last performances. Since 2010 he has been touring the world as a member of Santana. Over the years, he has also performed and/or recorded with a Who's Who of diverse artists, such as Wayne Shorter, John McLaughlin, Toots Thielemans, Ruben Blades, Gloria Estefan, and many more. "The Fantasy Vocal Sessions Vol. 2" is the second release of a projected five album series.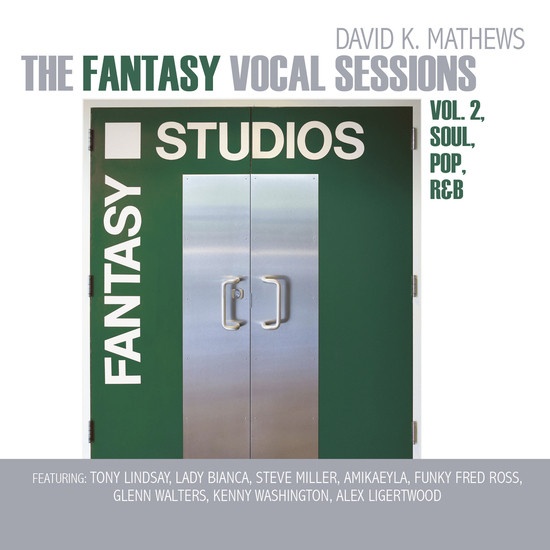 The name Fantasy Sessions is a double-entendre, referring to both Mathews' fantasy to put out a series of recordings with some of his favorite singers and musicians, and to the famous studio where a host of artists, from Sonny Rollins and Charlie Mingus to Aerosmith and Green Day, recorded their music. "The Fantasy Vocal Sessions Vol. 1" featured straight-ahead jazz standards in an acoustic setting. Vol. 2 features jazz arrangements of soul, pop, and R&B tunes in a more expansive setting as befits the style of the music.
https://music.apple.com/album/the-fantasy-vocal-sessions-vol-2/1507798854
+
https://www.amazon.com/dp/B086Z7XKJ1
Mathews is planning subsequent volumes in the series. Vol.3 will focus on the blues and Vol. 4 on Afro-Cuban and Brazilian music. Unfortunately, the studio closed in 2018, and future recordings will have to be made elsewhere. With its top-notch musicianship, first-class improvisatory chops by both the instrumentalists and vocalists, and Mathews' hip arrangements, "The Fantasy Vocal Sessions Vol. 2" is a love letter to one of the most diverse, creative, and inclusive musical milieus anywhere on the planet.