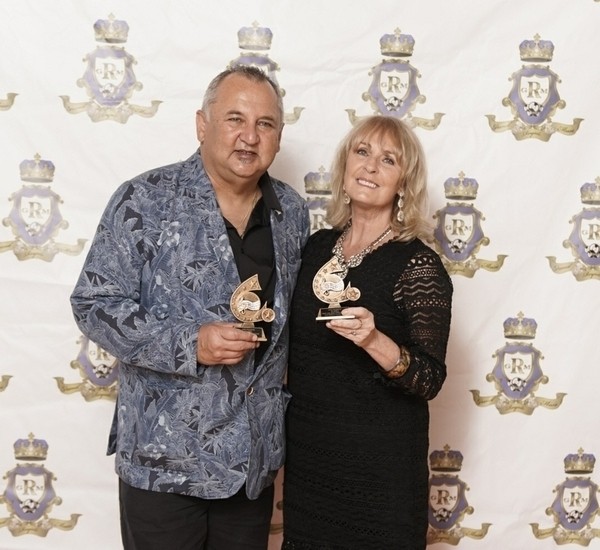 So back at it this week – we keep going @skopemag through it all from pandemics to civil unrest, the music must go on! Today we travel far and wide to beautiful Australia to hook up with Studeo. Studeo are not only a world renowned music duo but they are happily married as well. I admire them so much when you and your partner can share love and a passion for music. So many of you know Studeo has been huge participants with the GRM Awards and my friends Eye'z and Devin Black. They won big last year and even did a quick press tour and the Gran Royale Music Awards experience for 3 days. Studeo is also out with a new album 'You're The One' and a video as well. So join us today as we chat about everything from GRM Awards, the new album, covid19, and so much more – enjoy!
@skopemag: Where are we talking from today and how are you managing life with covid19?
We live in Melbourne Australia and we are lucky to live on a golf Course estate with plenty of wildlife including Kangaroos, Bandicoots and Cockatoos. The covid 19 lockdown has been not so bad for us as we have been able to take advantage of enjoying the wildlife from our backyard….and of course going for our daily walks through the course.
We have also been very fortunate in having our home recording studio….we have been able to use the time productively and have written and recorded a bunch of new songs aiming for a new album to be released next year. Our next album (Dancing On The Beach) will be released in early July 2020.
@skopemag: How has having tremendous passion for music help enhance your marriage and vice versa?
Christine and I are very fortunate that we share our music interests and work closely together. Having worked in the music industry for many years, we have experienced the changes and shifted our focus from live performances to writing and recording our own songs. We have our goals both in our personal life and our musical life. Again we are fortunate that a lot of times these goals are the same. So, we love travel and throughout our married life we have travelled to many countries around the world and have combined our musical commitments ….
@skopemag: Did you initially come together from music or from mutual attraction?
We originally came together through our day jobs…..we met whilst we were both working in an office environment in Melbourne. It was mutual attraction and we enjoyed each other's company. Our first unofficial date was going shopping for Christine's first car (she needed expert advice…LOL). Our musical journey started shortly after this……
@skopemag: How much of your real life is put out there in the songs you write and can you state an example?
Our music is very much a reflection of our real life. A lot of our music is written whilst we are travelling and is influenced by our travels….one of our favourite places is Khao Lak in Thailand and we have written many songs there. Songs like "Our perfect Place to be" sums up our love of this place and captures the mood and ambience of be in a wonderful tropical paradise. We also write about our life experiences and relationship with songs like "Can't stop loving you" and with "Counting stars" it is a very positive song about always reaching for your goals and finding your path ahead.
@skopemag: The album 'You're The One' is enjoyed by music fans globally, how long did that project take from start to release?
We began writing the songs for "You're the one" in early 2018 and we released the album in August 2019. So, it took around 18 months from start to finish….It is our second album and it includes a range of our songs, genres and even includes a cover song from Al Stewart "On the border". There is a lot of background work involved in producing and releasing an album including writing the songs, artwork, music production, distribution globally, promotion, video production……
@skopemag: You have had great success & recognition through the Gran Royale Music Awards – what did that mean to you and how did you get involved with them?
We got involved in the Gran Royale Music Awards through our record company, Bongo Boy Records. They encouraged us to submit for the awards last year. We were very pleased with the support they offered and we travelled to San Francisco for the awards ceremony, we also performed at the pre-party, awards event and after party the next day. GRM arranged for us to do some radio interviews whilst we were there as well. We had a great time and it meant a lot to us and provided a lot of exposure through social media. We also made some great friends on this trip…..
@skopemag: What is so important about music communities like the GRM awards and what let you know they were legit and aspire to help artists?
It is very important for artists to have opportunities to promote themselves and gain exposure for their music. We were very pleased with our results from last year and we achieved our aim to promote ourselves on radio, online podcasts, magazines and of course social media. GRM have been proactive by providing opportunities, arranging appointments for interviews and radio shows……we have developed a great reltionship with the GRM team…..
@skopemag: I see your last album is with Bongo Boy Records. How did that alliance come to be and how does Bongo Boy Records help enhance your music & promo reach?
We began with Bongo Boy Records in 2017 when we submitted a couple of songs for their compilation album, Love Is Vol.1. Since then we have been included in several compilation albums, released a couple of singles and of course 2 albums. We have also done TV promotions with them as well for our videos.
The great thing about Bongo Boy Records, is their reach globally and the range of opportunities they have to offer. They not only distribute and promote our music, but they provide TV exposure, support services for Grammy submissions, reviews and they have both a radio station and inhouse magazine.
@skopemag: When you are not making music what do you both enjoy doing together?
Chris and I are lovers of travel and look for opportunities to combine our travel with our music to take advantage of both pursuits. For example, we have written a lot of our songs whilst travelling in places like Thailand, US, Mexico, Hawaii and Corfu (Greek Islands). Christine is also a great cook and is so compatable with me as I love what she creates in the kitchen!
We also live in very beautiful country having beautiful beaches and wineries on our doorstep. We enjoy spending time with friends and family….
@skopemag: What are your goals for the remainder of 2020 and where can we follow Studeo online?
We have a very busy music schedule for the rest of 2020. We are releasing a new album "Dancing On The Beach" in late June. We have a new single being released on Bongo Boy records in early July and a couple of new compilation album on Bongo Boy Records later in the year. We have submitted our music for further awards throughout the rest of 2020. We are also well on our way to finishing a further new album for release in 2021. We are hoping to fit in some travel, of course depending on pandemic restrictions.
Studeo's music is available at all online music outlets!