In the land of the desert the one peach man is king. Such is the rallying cry behind the debut album from American music band Sunglass Moustache.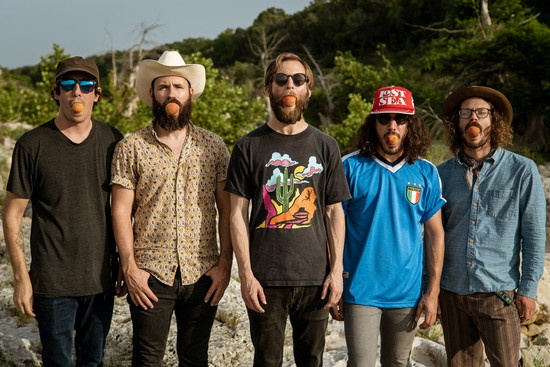 Vibey indie rock with moments of psychedelia the band's retro-futuristic sound draws inspiration from Berlin era David Bowie, nineties Brit-pop, and neo-psychedelic bands such as Brian Jonestown Massacre. Most of the Austin, Texas based band originally hails from Louisiana and, as such, also recall the weirdo pop bands of Elephant 6 Recording Company. Such acts with Louisiana origins as Apples in Stereo, Olivia Tremor Control, and Neutral Milk Hotel.
Spotify: https://open.spotify.com/track/1CXnBpffCixLVqRyu4XwXJ
The band came together during a series of dive bar tours across the country. Along such journey they learned the real story about Peaches and made a thirty five minute music video/band movie called Peaches the Movie.
A road movie which features songs from the album, the film is a surreal assortment of of oddities and absurdities collected and imagined during life on the road. Wedged in the middle is a live performance of the band's first single, "Only the Machines", live from the Museum of Human Achievement in Austin, Texas.
Recorded at Good Danny's in Lockhart and Cacophony Recorders in Austin, the album was mixed and mastered by Erik Wofford who has worked with such groups as Black Angels, My Morning Jacket, and White Denim. The arrangements on the record move from the live band feel of "Only the Machines" and "Took Awhile" to the synth heavy "Do It" and the 808s and insanity of "Billy Lost a Bet with Automation."
Alice Walker said "Life is better than death, I believe, if only because it is less boring, and because it has fresh peaches in it." This Spring the harvest is full and the peaches a'plenty. Sit back, settle down, giddy up and enjoy the fruits of the band's labor. Heed the warning of the late great John Prine. "Blow up your TV, throw away the paper. Go to the country, build you a home. Plant a little garden, eat a lot of peaches."