Pet Puma are a new band on the synthwave pop scene, bringing those retro vibes into today's pop landscape. Their debut single, 'Spaceship', has already been picked up by BBC Introducing, who described it as "something sublime". We caught up with them for five minutes to find out more!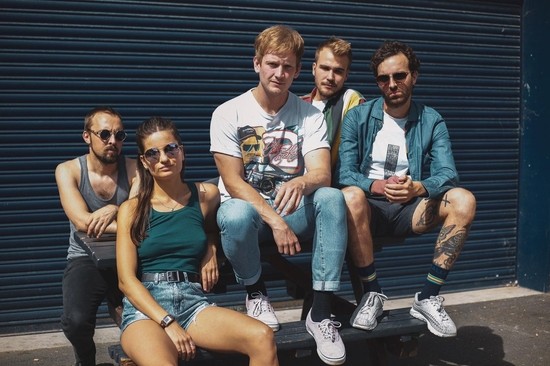 How did you come up with the name Pet Puma?
The name was actually thought up by our mate Tom who's band were looking out for a new name at the time. One night they listed off some options to me and Matt and one was Pet Puma that they weren't running with and it stuck on me. Names are difficult to come by and nothing else gave me that same vibe so we nabbed it.
As individuals, you all have a diverse range of careers from professional stunt woman to Instagram influencer. Considering this, how did you all meet to form the band? Was it at The Institute?
Kind of but kind of not. Kane, Matt and myself were on the same course at college years ago, Violet was at the same college at the exact same time but none of us crossed paths with her, which is kind of weird considering the size of the college, but we all became friends with her a little later that after. Tom came in last after he found my lonely hearts ad I put out on the net looking for a new drummer and we've all been happily married since.
You recently released your funk-pop, 80's synth driven single 'Spaceship'. How has the reception been to the song so far?
Reception has been great! People have been really supportive and that's a nice payoff after the graft we'd put in as a band to get Spaceship to this stage.
Given that 'Spaceship' hit a whopping 10k streams on Spotify, it's safe to say the single is rather successful. However, as a group how do you define success?
Sounds basic but again it's fulfilling to have people reaching out saying that they like the tune and it resonated with them in some way, I think that's all you can ever hope for really.
Alongside the audio, you released the music video for 'Spaceship'. What is the narrative behind the music video for those who may not have seen it yet?
So the video concept is essentially an episode of a retro budget kids TV show, the show is presented by the band and our little puppet mate Bepe. As the video progresses we discover Bepe has feelings for our Violet and all kinds of things occur explosions/a murder mystery/a car chase, won't believe your eyes mate!
What have been some of the biggest challenges you have faced throughout your career in music so far apart from Matt falling off stage during Children's In Need in the 90's?
I think the main challenge in music is always to keep moving and working. Pretty much everyone in the band has done session/other music work and would agree the frequency and energy you need to sustain that type of gig all year round isn't easy at all. We often light a candle in remembrance of Matt's Children In Need debut.
Where do you see Pet Puma going in 10 years time?
Pet Puma the movie starring Clare Balding as me.