I've had the pleasure of working with the multi-talented artist, Daniel Park in the past and I feel like this particular record is perfect timing. Yes, this is a Christmas-themed album and we are in Spring, BUT with all of the confusion and worry out there today I say why not! I've always thought Daniel Park is a special talent that deserves major recognition in the music circles and 'Shake It Like a Snow Globe' further solidifies that notion.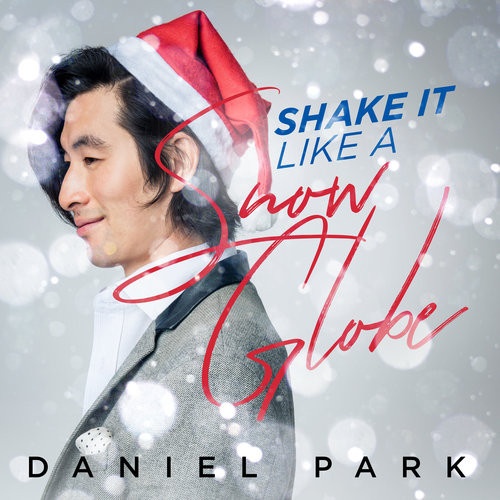 I had a chance to delve more into the personal life/history of Daniel Park a little over 6 years ago and you can discover more here for yourself: https://skopemag.com/2014/01/29/taking-a-stroll-through-daniel-park. Daniel Park is an excellent player of the violin and acoustic guitar while also adding in pristine vocals to the mix. Daniel plays & performs in a way that captures your attention and sucks you in whether you like it or not. And his 2018 Christmas release, 'Shake It Like a Snow Globe', is no exception to this rule.
This album contains 16 glowing tracks that includes heartfelt originals and spectacular covers. The record starts up with a song titled "Paint the World" that has rock & classical merging together superbly. Daniel sings and performs with such conviction on this number and the melodies are just so darn inviting. Next, we have "Every Day is Christmas" that offers the ideal message especially during these trying times in our world. Here, the listener will receive a chipper/upbeat sensation that is simply contagious. "Every Day is Christmas" is infecting your eardrums with wholesome vibes that can't be contained. On track three, "Wish I Was Home", Daniel gives off such an emotional tone as he looks to find his way back yonder. Get ready for a fun 'n' fresh version of "Jingle Bells" with DP bringing it all to life with this high-spirited set. The title track is up next, "Shake It Like a Snow Globe", and this song will have you up and moving without a doubt. Don't you dare hit pause on this cool-as-ice track because "Shake It Like a Snow Globe" has all the right elements for a Shake, Rattle and Snow Globe feel. You can also SKOPE out the official video for "Shake It Like a Snow Globe" right here with DP playing the part of Good Ol' St. Nick complete with classic, Santa hat and his trusty guitar,
Daniel Park recorded the video for "Shake It Like a Snow Globe" at Ritz-Carlton Millenia in Singapore with excellent, indoor acoustics being pumped out to the audience. Track six, "Love is for Christmas", is a true delight and in the words of Loverboy, I'm "Lovin' Every Minute Of It". Moving along, one will hear "Santa Won't You Bring Her Back" that cuts right through where the listener will sense the hurt/pain and will experience Daniel Park performing this touching song flawlessly. There is also a cool video for "Santa Won't You Bring Her Back" that features Daniel Park playing at a serene location at The Resort at Pedregal, Cabo, Mexico:
the highest dose of sincerity in place and a screensaver-like background, Daniel Park is asking Santa for that special someone back in his life. Prepare to clap along emphatically to DP, Pop goodness on "Holidays May Come and Go" proving that Christmas may be over, but the true spirit never dies. On track nine, "This is Christmas", you will get hit with a lively, jingle-jangle for your ears that will warm your senses like a cup of hot chocolate. Flowing along, Daniel is laying it all out there on "Winter and Snow" that offers a glorious sound and beautiful arrangement far from being anything frigid in nature. Track 11, "You'll Be Mine", provides sheer joy and pleasant vibes for all to enjoy. Daniel delivers a delightfully haunting rendition of "Silent Night" that is simply magnificent. On this old-time favorite, DP has his violin and acoustic guitar do all the talking and so "Silent Night" is brought to life in stellar fashion. On track 13, "Crazy Feeling", the listener will pick up on Daniel's true happiness & excitement as his wonderful emotions are pouring out like crazy. Next, we have "Away in a Manger" that is a truly significant tune with spiritual value. This song is both precious and powerful as Daniel is able to tap into both sentiments perfectly. Track 15, "The Whole World Rejoices", one can't help but join in and sing along to the incredibly infectious song. "The Whole World Rejoices" ONE for ALL and ALL for ONE behind Daniel Park's uniting lyrics and vocals. DP ends with a gripping performance on "Slow Down" that is such an intense and love-infused number. "Slow Down" is chock-full of meaning and instant truth; what a SONG!
After taking in 'Shake It Like a Snow Globe', I am even more impressed with this Las Vegas-based singer & multi-instrumentalist. I've known about this shining star for quite awhile now and feel it's time for the entire world to get to know and get used to Daniel Park. This dynamic artist has already had success such as: being chosen as one of the top 100 acts in Season 7 of "America's Got Talent" AND his 'Sidewalk Guitar' EP is the current hold music for the online shoe and clothing company Zappos. Daniel has had residencies at the Lily Bar and Lounge inside the prestigious Bellagio Hotel and Casino, the Mandarin Bar inside the Mandarin Oriental Las Vegas, and at the Red Rock Casino. DP has also played many corporate events and parties for companies such as: Microsoft, SanDisk and ProCore. Besides his base camp of Vegas, Park has also played all over the world including venues in: China, Australia, New Zealand and Singapore. I'm rooting for Daniel Park all the way because I feel his time has come to become a household name. And I say, why not spread cheer & joy year around especially when we're living in a time of uncertainty. I say we should turn on 'Shake It Like a Snow Globe' and let it play on and on. We all could use a little positive reinforcement and happiness in our lives and Daniel Park's Christmas record supplies plenty of that. I have to say that this isn't your typical Christmas album though because Daniel Park also hits on real life scenarios and human emotions that we can all relate to and cherish. Once you get a taste and Shake It up, you will not want to put this Snow Globe down.
http://www.danielparkmusic.com/
By Jimmy Rae + (https://twitter.com/2JRae)