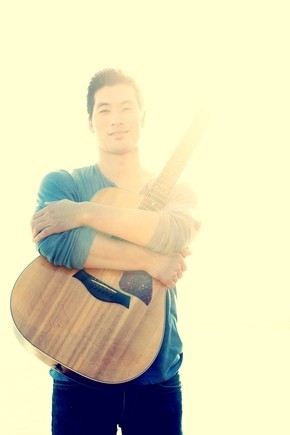 You may be asking yourself where is this Daniel Park located?   Well…it's not a Park per se with the green grass, bunches of trees and jungle gyms but in reality it is a Park full of hopes, dreams & determination.   It is a Park that is constantly growing in life and his name is Daniel Park.  
Daniel Park's origins trace back to a tiny village in South Korea where he and his two sisters were born but would spend some time in foster homes there.   Even with no birth certificate in sight, Daniel still had an identity and would celebrate his birthday on November 17, 1981.   Life would take a swift turn all around the globe where he and his sisters would be adopted by an All-American husband & wife from Albuquerque, New Mexico.   So having to deal with abrupt changes and adapt to a completely new environment, culture shock would be certain but the young Daniel Park would soon find the perfect outlet—MUSIC.  
It wouldn't be long before Daniel would be learning violin with his parents getting him private lessons by the time he was seven years old.   For 12 straight years, Park would be privately trained fine-tuning his skills as a violinist.   And then at age 15, Daniel's adopted mother would buy him his first acoustic guitar and the rest is history!   The MUSIC bug had got a hold of Daniel Park at a very young age and it had infected him with the urge to play, perform & entertain.   A new singer/songwriter was born!
Check out music from Daniel Park – http://www.reverbnation.com/danielparkmusic
Daniel Park would go on to college to study Engineering Technology at New Mexico State University where in between cramming for exams, many hours would be spent practicing on his guitar.   Some classic "Mario Kart" on Nintendo 64 was also thrown into the mix for fun.   It would be during these college years that Daniel would get involved with two bands: Live Bait (Mostly a Cover Band) & Kiss To Betray ("screamo" metalcore/hardcore group).   Live Bait actually won the local college radio station KRUXFEST for "Best New Alternative Band" in 2005 and Kiss To Betray won the Las Cruces 2006 "Battle of the Bands" and would go on to play at many hotspots around the country including: The Viper Room in L.A., Headhunters in Austin, TX and some well-known venues in Phoenix.   But something was still missing in Daniel's world and that was the urge to grow further as a singer/songwriter.   Park stepped into the solo spotlight for the first time with his debut album titled 'These Illusions', which I had the pleasure of reviewing for Skope.   I knew then that a true artist was born and there was no confusion in my mind what young Daniel Park was supposed to do.   His identity and his story was about to unfold right before our eyes & ears and this was no "Illusion" by any means.
With a rich sound, clean 'n' crisp voice & personal songs, Daniel Park has emerged onto to the scene.   And not to mention Park plays a mean acoustic guitar & violin to further enhance the whole DP experience.   After the release of 'These Illusions', there were a string of singles released along with two EPs–'Search and Rescue' in 2010 and 'Live and Acoustic' in 2012.   His most recent project is an EP titled 'Keep Your Gaze Upon the Compass' and I'm sure it's a HIT!
Daniel has played many local festivals, fairs & pageants along with being on Season 7 of NBC's "America's Got Talent"!   He has had the privilege of sharing the stage with top acts such as: Cross Canadian Ragweed, The Flobots, Sleepercar and Shawn McDonald.   Musical influences range from John Mayer, Dave Matthews Band & Jack Johnson to Maroon 5 and Coldplay.   Sticking to the genres of Pop & Acoustic Rock, Daniel Park's vocal & musical abilities come across as flawless and that is why we have a special kind of artist on our hands.   Daniel is singlehandedly putting a fresh new spin on the whole Pop/Rock scene and I for one am ecstatic about this!  
Currently residing in "Sin City" Las Vegas, Mr. Park has regular shows lined up from now all the way up through the summer at these locations: Lily Bar & Lounge (inside the Bellagio), Onyx Bar (inside the Red Rock Casino) & Rocks Lounge at the Red Rock Casino & Spa.   I don't know if Daniel is a betting man or not but I would put all of my money on the fact that the best has yet to come for D Park.   With the numbers lined up & excitement in the air, I feel Daniel has hit the jackpot already!   This person has found himself in this world no doubt about it.   His name is Daniel Park born in South Korea but raised in New Mexico and his birthday is on November 17, 1981–Confirmed.  
Watch out Mr. Las Vegas aka Wayne Newton because there's a "New Kid in Town" (Eagles) that doesn't have anything to lose and a lot to gain.   Success is sure to follow Daniel Park as he moves forward with his music career, so buckle up and enjoy the ride!   And be sure to check out his website where you can find out more about Mr. Park & check out live performances including his show-stopping, one-of-a-kind looping technique that allows him to play the violin & guitar simultaneously on the same song.   I don't know what other tricks Daniel Park has up his sleeve but one thing is for certain and that is that he is here to play and he is most definitely here to stay!
By Jimmy Rae (jrae2@att.net)