In the sweetly seductive clip for "Balance," Leah Jenea rides an indoor swing. The sequence shows her playfulness: no matter how serious her topics get, her songs are always great fun to hear. It's also a visual metaphor for the gentle but irresistible beat, which rocks, sways, and shudders in time with the ebb and flow of the singer's overwhelming emotions. Lastly, it's suggestive of the unstoppable forward momentum that the Newark, NJ R&B singer's career has had ever since she appeared on The Four, the 2018 FOX TV singing competition viewed by millions. Leah Jenea didn't win that show (she was a finalist), but she came away from the experience with something more valuable than victory. She won the respect of her peers, the adoration of the audience, and a co-sign from her hero Jill Scott, whose radiant, soulful, sexy music hers often resembles.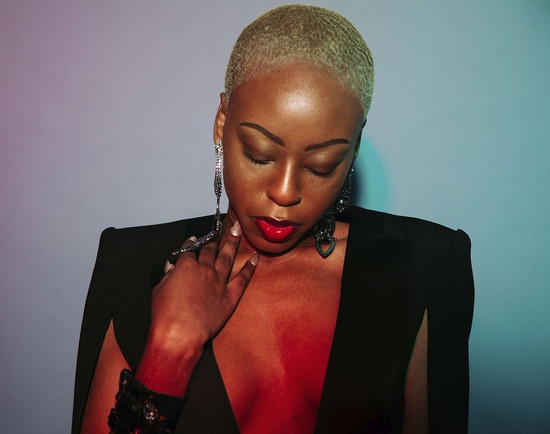 Back home, Jenea was already recognized as a budding star. She was born into local hip-hop royalty: her dad is Larry "Kapital" Gaines, a North Jersey rapper who, as Left Gunnz, has been shaking the state with underground bangers for decades. Before she turned 18, she'd already crossed the Hudson to take home multiple Amateur Night prizes at the Apollo theater and opened for Bilal and Musiq Soulchild at The Electric Factory in Philadelphia. Her summer '18 single "Perfectly Imperfect," which was released through an imprint founded byVin Rock and Kaygee of Naughty By Nature, confronted the problem of autism in poor communities with rare compassion and understanding. When Essence compared Leah Jenea to the young Mary J. Blige, nobody in Newark was surprised.
Nor was the success of "Gold Ring," her 2019 single, an unexpected development among those who know her. Although the song was independently released, it still reached a mass audience: its video has been played more than 400,000 times on YouTube. Because of Leah Jenea's striking sense of personal style – including attention-grabbing eye makeup, nail art, and gleaming hoop bracelets – "Gold Ring" is just as notable for its visuals as it is for its mesmerizing music. Jenea has carried that momentum into the video for "Balance," which, like its predecessor, presents the singer as a fully self-possessed young woman with poise, grace, and near-ungovernable romantic longing. Director Jay Scorsese shoots Jenea in gauzy slow motion, underscoring the reflective quality of the track, and allowing her beauty and passion to shine.