It was that time of year again in Anaheim for the National Association of Music Merchants (NAMM) show with 2,000 exhibiters representing 7,000 brands, and attendance of 115,888 Members and invitees.  As usual there were tons of each type of instrument and every variation imaginable.  There were also a lot of signings and performances by artists like Don Felder, Slash, Billy Gibbons, Zakk Wylde, Earth, Wind, & Fire, Tower of Power, Kenny Loggins, Matt Sorum, Alan Parsons, Steve Lukather, Skunk Baxter, Kenny Olson, Robby Kreiger, Gary Shelton (that played all of the parts from Frankenstein on guitar), Jerry Cantrell, and many more.  Highlight performances in addition to the award shows (below) were the Yamaha Main Stage events, The Ultimate NAMM Night and Gibson Live at the Grove.  NAMM U also provided educational seminars that keep you up to speed with the rapidly advancing technology.  If you do virtually anything in the music biz, this is the place you need to be.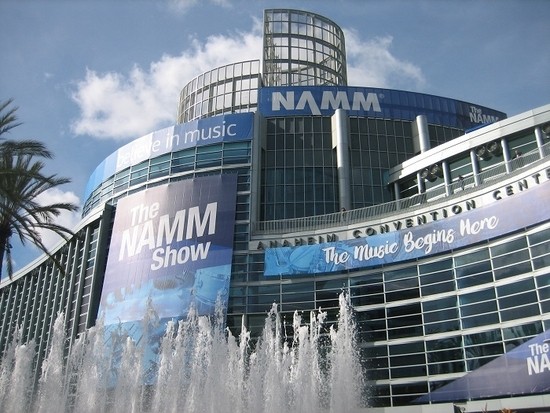 GUITARS
Gibson – They unveiled the new Slash signature guitar collection featuring four Les Paul Standard's and two J-45 Standard acoustics, and the limited edition  Tony Iommi 'Monkey' 1964 SG Special Replica.  They also had a series of classic re-makes in The Original Series, The Modern Collection, Artist Collection and Custom Shop models.  Gibson also demonstrated various stages of actual guitar manufacturing.
D'Angelico –  New offerings include the Bob Weir Premier Series Bedford Signature model and the exclusive 50-piece run Deluxe Series Limited Edition Models of seven new products in its high-end Deluxe Series. They also now have a U.S. Custom Shop.
PRS – Beautifully displayed were the new Signature and Private Stock editions, the Core, S2, SE, Bolt-On, and Acoustic Series issues. They also unveiled the exquisite Private Stock 35th Anniversary Dragon Limited Edition model.
Kramer – Gibson has activated the previously dormant brand with Kramer's Original Collection including the Icon, Baretta, Pacer, Focus, and SM-1.  The  Modern Collection will feature the Assault, Striker, Nite-V, bass and more.
Friedman – They offer their custom made high end spin on vintage guitars and amps.  The guitars are a combined vision of Dave Friedman and builder Grover Jackson.
Sawtooth – Their Americana Relic Series offers their affordable spin on the re-creation of the classic axes and basses.
Vintage – They offer their version of an affordable re-creation of virtually every iconic Gibson and Fender guitar and bass.
Bryan Guitars – They have three versions of yes, liquid filled strat-style guitars with interchangeable colors.  These are actually not that heavy, and can be custom ordered.
Fender – New series included are the American Ultra, the Acoustasonic Strat, Parallel Universe, Lead II and III.  These are all available in numerous configurations and color options.
James Trussart – Always eye-catching metal adorned axes in various shapes and configurations.   Sort of Zematis style on steroids.  Also unique, working amps made out of five gallon "Jerry" gas cans.  They don't show them for sale as of yet!
AMPS
PRS – Their amps were in full attendance, including the signature John Mayer, Mark Tremonti, David Grissom models and Archon models.  The versatility of the amps were highlighted by Paul doing a neat demo showing the multitude of tones pulled from basically any PRS guitar and any PRS amp.
Sundragon – This amp is a re-creation with Jimmy Page of his original Supro Coronado that was almost destroyed, then rebuilt with a new tonal quality used in Led Zeppelin and beyond.
Fender – The offerings added to the line are a new Mustang amp, and the new 64 Custom Princeton Reverb amp.
OTHER
Odyssey – Remember the old photo booths?  Odyssey has the PBP03 Majestic Photo Booth, a quick assembly kiosk and printer stand designed and built to hold a Microsoft Surface Pro (3 and up), digital camera, and printer. using a built-in wireless remote modeling and LED system, a dedicated 24v power supply for flash modeling, and a 12v power supply for LED attraction lights.
IK Multimedia – Ten years ago the iRig guitar interface started what progressed into a their new Z-TONE® Buffer Boost and Z-TONE DI.  IK continues to deliver high-quality mobile audio, a entire series of tools for iPhone, iPad, Android and Mac/PC. The iRig brand now includes over 60 convenient and affordable audio processing, recording and streaming solutions for on-the-go guitarists, vocalists, keyboardists, producers, engineers, content creators and more.
Cosmic Truss – Crazy unlimited design for any type of stage/lighting trussing.
Dolby – Dolby On is an app that turns your phone into a virtual recording tool with eight built in features.
Dynaudio – They offer professional audio studio and reference monitor speaker systems, and even have a series for using in the home and car.
EVENTS – AND THE AWARD GOES TO
TEC Awards – The prestigious NAMM Technical Excellence & Creativity (TEC) Awards were presented at the 35th annual event, recognizing individuals, companies and technical innovations behind the sound of recordings, live performances, films, television, video games, and other media in 23 Technical and eight Creative Achievement Categories. Hosted by comedian/actor Fred Armisen.  Joni Mitchell recieved the Les Paul Innovation Award, The Ventures Don Wilson was honored with a Music for Life Award, and the Hall of Fame inductees were Grammy winning engineer Dave Pensado and veteran artist manager Herb Trawick, hosts of the web-series Pensado's Place.
She Rocks Awards – The 8th annual awards show hosted by Lyndsey Parker and Mindi Abair, honored female artists Tal Wilkenfeld, Gloria Gaynor, Suzy Quatro, Linda Perry, Lzzy Hale, and Beatie Wolfe.  Also honored were female industry leaders Ebonie Smith, Suzanne D'Addario Brouder, Myrna Sislen, Judy Schaefer, and Tara Low. 
The Parnelli Awards – Garth Brooks showed up as a presenter at the 19th Annual Parnelli Awards for the live event Industry.  Highlighting the numerous awards were Michael T. Strickland founder of Bandit Lites received a Parnelli Visionary award for his pioneering work in the lighting business, monitor engineer Karrie Keyes recieved the Audio Innovator Award, production manager Mark "Springo" Spring received the Parnelli Lifetime Achievement award, and the NextGen Award was given to artist manager Henry Bordeaux. 
For more show info, pics and videos please check out: