by Nick Christophers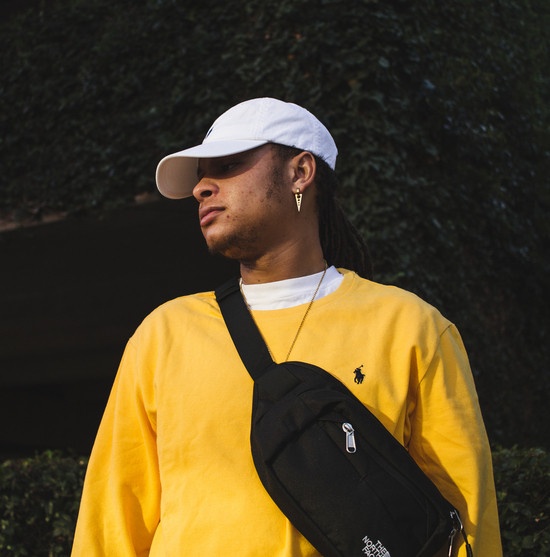 When you get to speak with Lance White, you tend to forget his age since his conversation is so on point and intellectual it's like speaking to a philosopher. Lance is a mega driven artist who has brought forth a creative side that is seldom seen on the urban music landscape. His business sense and use of language is very impressive and hard to ignore.
Growing up on all types of music he was influenced most by Nipsey Hussle who he felt touched upon the very life struggles he was experiencing, which he himself is managing to do through his own music. He strongly believes that music has inspirational power. Lance began writing lyrics while a teenager in his hometown of Fontana, California. It was much later that he began really focusing on his music. His entrepreneurial spirit took root when he developed his stage name L.A.N.C.E. which is actually his first name. Each letter signifies a specific part of him. He explained it to us.
"L would mean Living as everything is living around the world. A would be Abstract for my love of that type of art form, N for natural that everything I do is organic, C for my creative side and E for Entity a presence of the collective conscience."
Lance has managed to market himself and become noticed in more ways than one. Only recently he was named as "One of the Top 5 Artists to Watch in 2019" by Global Money World, which was a great honor for him as a young and upcoming artist. In addition, he opened up for the Urban Nights in LA which as a music showcase. The event was set up by Eugene Johnson and WWTB (What We Talkin Bout) Radio, as they collaborated with urban artists from the Inland Enpire and LA. Lance was overwhelmed at first by the vast numbers at the event but after his second song he had the crowd hooked. After his performance his social media blew up.  Even though he was heavily taken by rapper Nipsy Hussle, R&B artist SADE was another strong influence thanks to his mother. This is evident in his debut EP "Stronger Than Diamond" which was released in 2019.
"Sade was another influence of mine due to my mother playing her music. I find her music is 100% vulnerable with a lot of raw energy and is organic and transparent. I used samples from her catalog and meshed it with my style to pay homage to her genius. My producers Vangogh  and Myles Martin helped me to accomplish this difficult task. We wanted to make this a stand-alone project."
Besides his music he also began his own brand called Abstrakt Muralz which is a combination of a record label, publishing company and clothing line. The motto of the brand is "Vision Perfected," which would mean anything can be achieved nothing is impossible. Lance strongly believes in giving back to the community as he worked on a campaign called Pressure Campaign that focuses on the need for awareness in mental health care. In addition, he has worked with non-profit organization Youth Mentoring Action Network that assists teenagers develop a positive road map in their life. He actually worked with the organization for two years after graduating high school.
Lance is a unique artist who is not your typical urban artist but an eclectic one who is always looking to grow as an artist and a human being.
Keep up with his music and upcoming performances at his website Abstrakt Muralz.