DFW resident violinist Eun Chong Ju has released her highly anticipated first digital album. This album includes "Introduction and Rondo Capriccioso in A Minor Op. 28" composed by French composer Camille Saint-Saens.
"This piece is famous for its fast tempo and brilliant technique. "Introduction and Rondo Capriccioso in A Minor Op. 28″ was originally dedicated to Pablo de Sarasate, the most virtuosic violinist in that period." Said Eun Chong Ju. "I reinterpreted this piece by highlighting its warm and melodic parts along with advanced techniques. This album goes well with the autumn nights."
Eun Chong Ju is performing with Las Colinas Symphony Orchestra in 2019-2020 seasons. Upcoming concerts are on October 19, November 16, December 21, 2019 – January 18, February 15, March 21, April 18, May 9, 2020.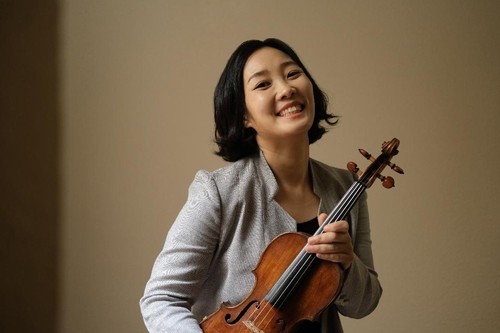 @skopemag – Asked Her These Questions:
What are your music inspirations?
ECJ: Two things: Nature and other musicians. I very much appreciate and enjoy nature and when I perform I think about the sights and the feelings I received from nature. I also enjoy listening to other great musicians as they inspire me to continue with my music.
What is your process of learning a new piece of music?
ECJ: I start from listening to other available recordings of the piece. Then, I add my interpretation of the music and make it my own.
How do you juggle your personal life and your music career?
ECJ: I think that's the hardest thing for musicians. I can't stop practicing until I am satisfied. But I need to cook for my family, teach my students, work out, etc. I usually set the timer when I practice and never think about Violin when I leave my practice room. It's like there are two totally different people in my life.
How have your family helped you, and influenced you?
ECJ: My Aunt is a violinist in South Korea. So we all were influenced by her. There are two more violinists among my relatives. My parents loved music so they supported me very much.
How would you compare music is your home country to music in America?
ECJ: America is a country with people from various countries, cultures. I can say the variety is the most significant difference.
Who are your professional mentors?
ECJ: Fortunately, all my previous teachers were/are my mentors. It's hard to name a specific person.
Who is your favorite violinist and why?
ECJ: Hilary Hahn – I recently I really enjoy listening to her because of her perfect technique and musicality. I can sense her strongest devotion to violin in her music.
Is there anyone you have ever been compared to?
ECJ: No – not that I can remember. I always compare myself to previous me from recordings. That's how you get better.
What would you tell a young musician about the music business?
ECJ: It's really narrow, rough road. Leave music as a hobby unless you love music so much so you don't care where you play and how much you get paid.
Your first memory as a child of music?
ECJ: It was my aunt's graduation recital when I was 5. It's the earliest impactful memory of music I have.
Your first song that you heard as a child that you loved?
ECJ: My mother loved listening to Mozart and that the earliest recollection of music in my life. I think I loved id too.
Who are your favorite music artists?
ECJ: Yo-Yo Ma – I had the opportunity to play with Yo-Yo Ma at Chicago Civic orchestra. He had a very good understanding of his music and he was humble as well.
Spotify: https://open.spotify.com/artist/4nJEQ7a8xmdIkc1idjCgge
Who would you want to collaborate with?
ECJ: I'd like to collaborate with my college friends in South Korea. When we were studying music together I felt that we had a very strong musical connection with each other. I'd like to be able to collaborate with them again soon.
Pick one of your music pieces that might be personal and tell us a little about it?
ECJ: Prokofiev – Violin Concerto No 1: This piece is not sad at all but I saw my father crying after I performed this piece on a concert. I never asked him why but I remember this.
Tell us about your spiritual journey that pertains to your music?
ECJ: I grew up in a God-loving family. So my music is naturally very spiritual to me. I feel I'm able to add more and more spirituality in my music as I age and mature.
If you didn't play classical music, would there be another genre that you would want to play?
ECJ: I think I would've been a jazz pianist if I didn't focus on classical violin.
Where do you see your music going in the next 5 years?
ECJ: More recording, more concerts, and more teaching. I hope to be able to share my music with more people.
How do you feel about women's empowerment?
ECJ: To me – there is a clear difference between men and women but the necessity of each gender is equally as important. So I think all men and women should be equally empowered by each other.
What's the one thing that you want your fans to remember about you?
ECJ: I aspire to be a friend to all of my fans.
What do you do for relaxation?
ECJ: I like to take a walk. My husband knows this well – he will always ask me if I want to go take a walk after we have an argument.
What are your hobbies?
ECJ: Reading, Pilates, Walking.
What's a charity that you want to be involved with and why?
ECJ: I hope I can use my talent in many ways. Music can move people's hearts. I'd like to play and teach violin to students who do not have such opportunity in their lives.
What's on your young bucket list?
ECJ: Traveling worldwide.
What the most important thing in your life?
ECJ: To live happily ever after, and God.
Anything else you would like to add?
ECJ: Thank you for the opportunity to share about my life and music!