When you think of Blues legends, names such as: B.B. King, Robert Johnson, Muddy Waters, John Lee Hooker, Lightnin' Hopkins, Albert King, Buddy Guy and Elmore James come to mind. Dudley Harris is keeping this treasured music alive with his new release titled 'All The Money's Gone'. The much anticipated album is nothing but old-time Blues with a whole lot of Soul to boot!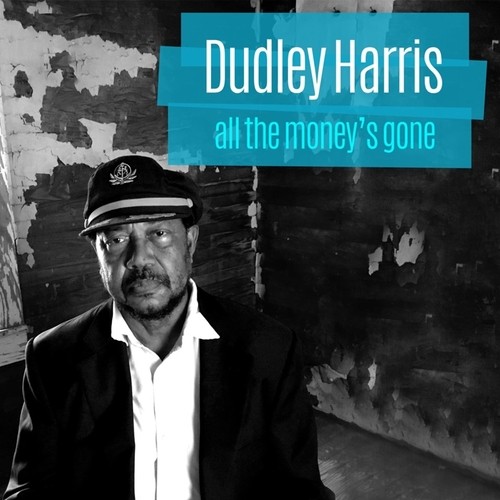 Dudley Harris has been a musician for over 45 years and that's why I am shocked to discover that 'All The Money's Gone' is Dudley's first official album release. Blues is in this man's bones and the music runs through his veins from head to toe and so it's about time the world gets to hear Dudley Harris once and for all! I always say better late than never and have to say that 'All The Money's Gone' is well worth the wait because the West Tennessee bluesman delivers tenfold!
The record starts up with a number called "Tired Baby" that gets you instantly hooked to the classic Blues sound full of raw feelings. Just head on down the tracks as Dudley Harris puts it all on the line with nothing to lose. Next up on "Jack Rabbit", one will want to jam out for hours on end in what is a real, hoppin' good time! Rolling along in style on "Love Me", the listener will get a fun tone that will get you clappin' & snappin' along to the beat. Moving on to "Nobody Knows" where you sense a down-and-out-in-DudleyVille vibe and Mr. Harris is letting you know the hard facts. The "Hard Times" continue where "Nobody Knows" the kind of trouble Dudley Harris is in. On track six, "Cinnamon Roll", prepare your musical palette for a sweet treat that you will eat right up and come back for seconds. Slither your way into the next song, "King Snake", that is slippin' & slidin' all around proving that Dudley is the head honcho when it comes to the Blues game. On track nine, "Get My Gun", shit's about to hit the fan with Dudley Harris taking his best shot and not kiddin' around. I enjoyed the easy-breezy ending on "Sweet Honey" that just feels right and tastes so good.
Harris recorded this album with Grammy winning engineer Michael Saint-Leon (Buddy Guy, Rolling Stones) in Music City USA, Nashville, TN and the record is produced by artist Elam McKnight. With a winning team backing Dudley, he can't lose! 'All The Money's Gone' is pure gold and an instant Blues classic where Dudley Harris shows you how it's done and done right. All 10 songs on the album are well-executed and offer the listener plenty of high-quality, bluesy tunes. Dudley Harris should be very proud of the finished product because 'All The Money's Gone' is a Blues blast from the past for 2019 & beyond. It's time for Dudley Harris to reap the rewards of his hard work and dedication over the years, so be sure to check out 'All The Money's Gone'.
https://dudleyharrisblues.wixsite.com/website
By Jimmy Rae/Jrae23