Mackenzie Shivers' contemplative holiday album 'Midwinter' chronicles the nostalgia that builds during the season, a grand piano and unornamented vocal inviting the listener to reflect on another year past as if Shivers is right there singing to you in your own living room.
The eight track album consists of a mix of expressive piano instrumentals and thoughtfully arranged Christmas songs, packaged more like a heartfelt letter to an old friend than a pristinely wrapped gift from a department store.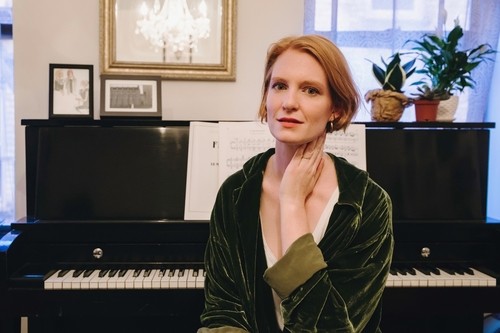 The raw, intimate nature of the recording is purposeful. Shivers and her co-producer Kevin Salem (Rachel Yamagata, Lenka) tracked everything in a single day, leaving space for the unexpected and unpolished, for minds to reflect and then settle.
Pre-order and receive "I Heard the Bells" now: https://mackenzieshivers.bandcamp.com/album/midwinter
While "I Heard the Bells" and "Auld Lang Syne" capture a deep yearning that hints at heartbreak, a cappella track "Jeanette, Isabella" (featuring fellow NYC artist Jess Clinton) and jangly upright piano tune "Joy to the Bar" are more carefree, harkening back to warmer, more jovial memories.
Most songs on 'Midwinter' are old carols and hymns adapted by Shivers, but the title track is one of her own compositions. It is in this arrangement that the listener is treated to reverberant hand percussion and a dancing piano waltz that, while newly composed, sounds as though it could have been echoing through a castle in the Scottish Highlands in the 15th century.
For Shivers, coming home for Christmas has become synonymous with playing the piano in her living room, serenading family with her favorite holiday tunes. 'Midwinter' allows her share these arrangements with a wider group of listeners, giving them a companion in their own time of reflection.
'Midwinter' out everywhere November 29th – Photo credit: Liz Maney