Everybody loves a band with staying power- a band who toughs it out in the trenches year after year, beloved by those lucky enough to catch onto them. The Turnback, with three solid LPs of shimmering pop/rock goodness under their belt, are certainly that band. But the New York three-piece has an even rarer, more important kind of staying power. It lies in their actual songs, songs that rock as hard and sound as new as they did the first time you threw them on. When a band's whole reason for making music is simply to make music, that comes through loud and clear. And that's The Turnback. The guys have been called out by the hard-to-please Huffington Post, and have played every rock band's dream show at Liverpool's legendary Cavern Club. They've also financed, directed and scored an award-winning indie film. Their recent move from releasing full albums to putting out singles is just the latest example of their "rock-n-roll-with-it" attitude. "You Kill Me" is the second in that series of singles, and that focus on one song at a time is evident here from the first note to the last.
Todd Giglio, Kenny Sherman, and Barry Nagel were asked by an author buddy to pen a track that would act as the closing credits song for a book he had a hand in, entitled Murder In Montague Falls, a collection of pitch dark, Noir-ish novellas. When their overwhelmingly positive press says things like "Foo Fighters meets The Beatles," this is the kind of Turnback song they're talking about. This track is hook after hook, a testament to the natural ear for harmony and a memorable chorus this band embraces. The warm guitar fuzz and melodic layering of "You Kill Me" wouldn't be out of place in a best-of playlist from the '60s or '70s, hell, even the '80s, but its dark humor places it very much in the present day. When you listen to "You Kill Me," think about this: from 2001-2006, the Turnback went on a five-year hiatus they very nearly didn't come back from. In 2006, Giglio started work on the indie film Drawing With Chalk, which was the pivotal point when the band started writing and recording again (as well as play live shows). Since 2006, they've done the film as well as completed three LPs and four music videos. This power trio has now knocked out a stellar fifth music video: "You Kill Me."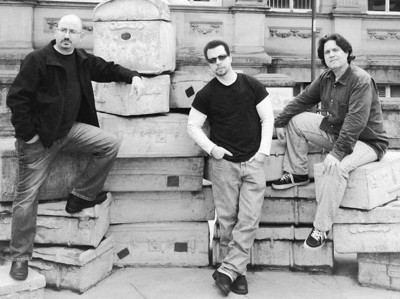 In keeping with the song's origins, the band created their own tale of mystery and dread with some classic black and white animation. There's a definite old school Beatles cartoon aesthetic in here too. The band heads out to a show in the novel's fictional Montague Falls, and, like all scary movies, things seem to be going pretty well for our protagonists. But all is, obviously, not as it seems. A masked figure emerges from the shadows and slashes the tires on their van. (If you've ever been in a band, you know that this is a nightmare all by itself.) The guys have to hoof it through some pretty forbidding terrain to a classic do-not-go-in-there hotel. A good old-fashioned Scooby Doo villain pursuit ensues. The video ends with not one, but two chilling twists that'll have you looking over your shoulder and avoiding dark alleys for the next week.