@skopemag APP – Apple iTunes –
https://itunes.apple.com/app/id1465224822?mt=8
@skopemag APP – Google / Android –
https://play.google.com/store/apps/details?id=hr.apps.n207414718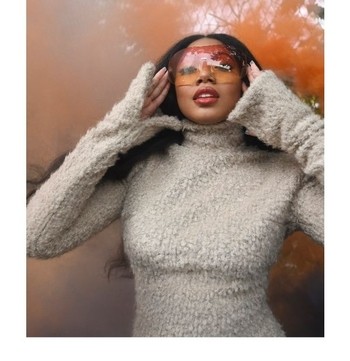 Maria Neckam's new single "Happier" + Skope
"Happier" is about hitting that all-important reset button on life. Sometimes it's unexpected heartbreak that sends one careening through a smorgasbord of emotions, which is exactly what happened to Neckam and inspired The Leap… after being forced to contend with a new life, she bravely picked up the pieces and has now reemerged with a colorful, playful and altogether moving new album. Throughout, she carves out lush compositions that touch on desire, joy, sadness, anger, hope and contentment. Neckam is a master of turning the emotional, psychological screws in a way that's magnificently visceral, and supercharged with universal truths.
Red Hearse's Self-Titled Debut Album Is Out Now!
"Red Hearse" the self-titled debut album is out now via RCA Records.
Additionally Red Hearse have announced 3 special live shows in support of their self-titled debut album. The shows, which will take place in their respective hometowns, go on sale today at 10am local time. Buy tickets here: https://www.redhearse.com/
Red Hearse Tour Dates:
Sept 7 – LA @ Moroccan Lounge
Sept 11 – Chicago @ Schubas
Sept 12 – Brooklyn @ Elsewhere Zone 1
KREAM APPEAR IN FIRST MUSIC VIDEO FOR NEW RELEASE "GO SOMEWHERE" – OUT TODAY!
The chart-topping Norwegian duo KREAM has been on a roll so far in 2019 and is showing no sign of slowing down anytime soon. Today, the pop-leaning duo comprised of brothers Daniel and Markus Slettebakken are releasing a compelling new single called "Go Somewhere" with the rising UK-based R&B singer-songwriter RANI. "Go Somewhere" is out now through Big Beat Records along with its official music video, which marks KREAM's debut appearance in a proper music video! The video features a flawless RANI being brought to life as she sings the melody and KREAM play out the music. They do so in seemingly comfortable fashion, performing live on a soundstage with their gorgeous custom studio arsenal in tow.
"Go Somewhere" in KREAM's New Single & Debut Music Video Appearance
A R I Z O N A UNVEILS "NOSTALGIC" VIDEO FOR LATEST SINGLE
Today, alt/electronic trio A R I Z O N A released the visual for their latest single "Nostalgic." The incredibly catchy, sentimental bop with over 11 million streams is accompanied by a new emotion-stirring video; watch HERE. "Nostalgic" is also available at all DSPs and streaming services.
The Murder Capital Release Debut Album, When I Have Fears, Today On Human Season Records
"Their live show has become the stuff of indie scene near-legend."
-Noisey
"…one of a raft of exciting new bands emerging out of Ireland right now."
-The Fader
"It's early to say, and it's bold for sure, but there's a fair few legendary bands out there that were never quite as good as The Murder Capital are right now."
DIY (4.5/5)
New > Video > Bermudian Singer Bassette > 'She Bad' > Out Today > watch here
'She Bad' is the new single by transatlantic singer-songwriter Bassette, released on 2nd August. A dark and bass-laden track, 'She Bad' is uplifted by Bassette's delicate yet raspy R&B vocals, and accompanied by vibrant visuals, directed by Central St Martin graduates, creative duo Fon And Fa, which PAPER premiered exclusively today.
At only 24 years old, Bassette has already lived in three very different countries. Born in Bermuda, Bassette and her family relocated to Scotland, a world away from the big, colourful houses of Bermuda and the generations of her family who continue there, before moving to Sheffield and finally settling in London a few years ago.
ELECTRIC GUEST RELEASE LEMAITRE REMIX OF "DOLLAR"
The original track received critical acclaim upon release, with Billboard proclaiming: "Electric Guest have made an eclectic return with feel-good anthem, 'Dollar.'
Complex premiered the official music video and declared: "The track is representative of the duo's goal of entering this latest era with a desire to make straight up, unapologetic pop."
Shredders (P.O.S./Doomtree) Share "Vanilla ISIS" Track On HipHopDX | New LP 'Great Hits' Out 8/30 Via Doomtree Records
"Much like their work in Doomtree, Sims, P.O.S, Lazerbeak and Paper Tiger appear to have a knack for knocking out banger after banger. "Vanilla ISIS" is no exception."
– HipHopDX
"The group has been fairly quiet since 2017's Dangerous Jumps, but are poised for a boisterous return in 2019 if their new single 'Ayeyayaya' is any indication."
– The 405
P.O.S, Sims, Lazerbeak, and Paper Tiger have shared a new track titled "Vanilla ISIS". Last month the group announced a new album titled Great Hits. Along with the album announcement the band has shared a new track titled "Suburban Base". The album will be out 8/30 on Doomtree Records.
JOHAN LENOX DROPS EVERYBODY'S COOL BUT ME 5-SONG EP TODAY
Multi-talented award-winning singer, songwriter, classical composer, string arranger, and producer Johan Lenox brings his panoply of musical gifts with the release today of his anticipated 5-song EP, everybody's cool but me including the unreleased track and video for "Pretender." "The EP is about my experience being a kid in the suburbs of New England," Johan explains. "I miss the carefree high school years, the aimless neighborhood wandering, and partying in garages. At the same time, we're clinging to youth because we know that our future has been sold out by previous generations. I channel these feelings in my lyrics and in how I produce the songs, using only classical orchestra sounds except for the drums and vocals."
Two Music Veterans Turn To The 'Dark Side Of Pop' With Controversial Release
Vix20 are Gary Mills and CJ, two music industry veterans who grew so disillusioned with the state of every element of the music industry that they threw their guitars out of the window and sulked for a few years. Now rejuvenated, though no less prickly about the Modern Age, they return, to quote the band themselves, "we're hard rockers turned to the dark side of pop". As evidenced on their previous single, Digital Age, their passion for power pop (don't say 'punk pop' to them, it suggests too much jumping around) and dexterity with words combines to become insanely catchy 3-minute thunderbolts. Their double A-side Hashtag Change/Me Gwanishi pushes the envelope even further with the glorious cut-up tones of Donald Trump delivering a love letter to his beloved Melania. Lawyers be damned!
KITTEN RELEASES NEW TRACK AND VIDEO "MEMPHIS"
Power-pop rock band KITTEN, fronted by Chloe Chaidez, have just released their stunning new single and music video "Memphis". The music video, shot at the band's house in LA, is the directorial debut of photographer Tsarina Merrin. With an unfussy, cinematic touch, Merrin lets memories flicker between the cracks, anxiety lurks around the edges, and shows that home is often a person (or people), not a place.
Cristoph unveils club ready remix of Camelphat's latest smash 'Be Someone'
Progressive house DJ & producer Cristoph has unveiled his club ready remix of CamelPhat and Jake Bugg's latest single 'Be Someone'.
Cristoph's remix is laced with his signature high-tempo house melodies and is sure to prove a hit across dancefloors globally. No stranger to collaborating with CamelPhat before, Cristoph previously collaborated with the pair on their monster hit 'Breathe'.
Old Salt Union releases new record "Where The Dogs Don't Bite"
Today, Old Salt Union has released their 4th studio album Where The Dogs Don't Bite (Compass Records). The Alison Brown produced record offers up a musically expansive and slightly darker side from Old Salt Union. The album sees the band digging deep into their eclectic and diverse interests to create this set of new music, which has already received the acclaim of outlets like Rolling Stone Country, No Depression, Relix, The Bluegrass Situation and Bluegrass Today.
HappyBirthdayCalvin Drops New Single "Alone" Featuring Bjrnck
Initially dropped on SoundCloud, the track opens with delicate production by HappyBirthdayCalvin before a gritty beat drops. Meanwhile, he declares his independence with the hypnotic hook, "I don't need nobody, I'm on my own." He locks into a harmony with labelmate BJRNCK as he tells an empowering and inspiring story. Watch out for the visual to come soon.
OUT TODAY: New Album Produced by John Moyer (Disturbed) by Alt/Hard Rock Artist, Hanna Barakat
"In it she deftly weaves hard rock energy with Middle Eastern scales and vocal acrobatics. An amalgam of genres and vocal style, Barakat isn't afraid to go where she thinks the music should take her." (Parade Magazine)
"Blending active rock, metal, and her considerable World music influences, Hanna has a voice and style that demands your attention." (Ghost Cult Magazine)
Hanna Barakat Takes Us on a Genre Bending Journey With Siren—and We're Here for It
for Skope: Dimitri Vegas & Like Mike and Nicky Romero team up on "Everybody Clap" (out on Protocol)
Dimitri Vegas & Like Mike and Nicky Romero have just released their 2nd collaboration – "Everybody Clap," on Nicky's Protocol Recordings. The boys have already worked together last year on "Here We Go," and just like their 2018's collab, "Everybody Clap" has been designed for the club and festival circuit. In addition to the new single Nicky Romero has just released part 2 of his "Redefine" documentary.
Soul/Funk Group Rhymes Ft. Summer Dennis Releases Summer Party Video via EARMILK
Washington DC-based, soul/funk project, Rhymes Band ft. Summer Dennis, announce the dynamic and fun video, "The Party" via EARMILK, from their upcoming album, Second Summer, due out this Fall. Rhymes have acquired media accolades, including appearances on Soulbounce, Celebmix, Great Day Washington, and Blog Talk Radio.
Sakima shares new mixtape 'Project Peach'
PAPER Mag premiered the mixtape today and found it possessing "all the right building blocks for a Top 40 song: catchy hooks, glossy instrumentals, lyrics that walk the line between personal and universal".
Louisville Rapper Markie Releases New Song "Ugly Places"
A 19-year-old rapper with a lifetime of stories to tell, Markie hails from the East End of Louisville, Kentucky—a place that inevitably pours into each song he creates. "Where I come from is the gutter, it's the trenches," says Markie. "People have their ideas of what life is like in Louisville, so I wanted to use my music to tell them what's really going on." Markie's forthcoming debut project brings his magnetic charisma and melodic flow to that purposely unfiltered truth-telling.
BJØRN TOMREN RELEASES JOHNNY CASH-ESQUE 'BAD SCIENCE FICTION'
Bjørn Tomren releases the title track from his upcoming album 'Bad Science Fiction', which is due for release on 20th September via Norwegian powerhouse Propeller Recordings (Dagny, Highasakite, Sløtface and more).
The modest yet mesmerising Americana-Folk track 'Bad Science Fiction' captures a delicate Johnny Cash-esque, while maintaining Tomren's poetry-like, enigmatic storytelling.
Termanology + Dame Grease f. Sheek Louch, Fame (M.O.P.), Wais P "Black Mask"
Termanology & Dame Grease "Set in stone" album drops 9/13.
Acclaimed Guitarist Ben Eunson Debuts Album via Guitar Player
The album combines influences of jazz, blues, R&B, and prog into Eunson's own complex flavor of rock music.After an illustrious career as a guitarist performing and recording with acclaimed artists, including John Legend (NBC's Christmas Tree Lighting at Rockefeller Center), Lalah Hathaway (Lalah Hathaway Live release show), Queen Latifah, Dave Chappelle ("Controlled Danger" Concert in NYC), and more, Ben Eunson is fully equipped to take his own spotlight with his distinct guitar stylings.
NEW TRACK FROM DAYA "KEEPING IT IN THE DARK" UNVEILED ON 13 REASONS WHY FORTHCOMING SOUNDTRACK
The original soundtrack to 13 Reasons Why (Season 3) features new music from 5 Seconds of Summer, YUNGBLUD, Cautious Clay, Charli XCX, daydream Masi, Alexander 23 and Drama Relax.
Original Soundtrack Track Listing:
1. "Teeth" – 5 Seconds of Summer
2. "Die A Little" – YUNGBLUD
3. "fuck, i'm lonely (with Anne-Marie)" – Lauv
4. "Severed" – The Decemberists
5. "Swim Home" – Cautious Clay
6. "Another Summer Night Without You" – Alexander 23
7. "Miss U" – Charli XCX
8. "Favorite Drug" – daydream Masi
9. "Keeping It In The Dark" – Daya
10. "Young Forever" – JR JR
11. "All That" – Drama Relax (feat. Jeremih)
12. "This Baby Don't Cry" – K. Flay
13. "Walk Forever By My Side" – Twin Shadow
14. "SLAVES OF FEAR" – HEALTH
15. "All Your Life" – Angelo De Augustine
16. "Culture" – Hembree
17. "Still Want To Be Here" – Frightened Rabbit
18. "Ordinary World" – Eskmo (feat. White Sea)
POP PIONEER CHARLI XCX ENLISTS SKY FERREIRA ON NEW SONG 'CROSS YOU OUT'
Multi-award-winning artist Charli XCX has accrued two Billboard Music Awards, a YouTube Music Award, two Sesac 'Songwriter of the Year' Awards, plus nominations at the Grammys, BRIT Awards and MTV EMA's. As trailblazer behind the multi-platinum and global No.1's "Fancy", "I Love It" and the hit "Boom Clap", Charli has also released the critically-acclaimed mixtapes 'Number 1 Angel' and 'Pop 2', and released her prolific summer crush anthem "Boys" and "1999 featuring Troye Sivan". This year Charli attended the Met Gala as a special guest of Vogue, and performed for the amFAR Gala at the Cannes Film Festival.