Iconic pop futurist Charli XCX teams with enigmatic pop artist Sky Ferreira to release a new song "Cross You Out" off her soon-to-be-released third studio album "Charli" arriving on September 13th via Atlantic Records.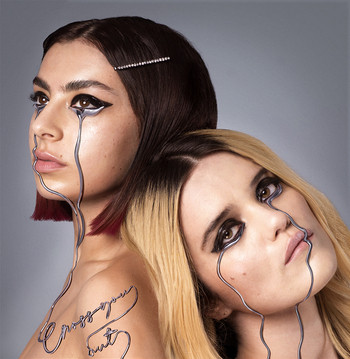 An emotive and vulnerable confessional materialized in an unflinching pop anthem, "Cross You Out" explores the personal transformation that occurs following the end of a turbulent relationship, and the complicated liberation within that.
The art of collaboration is at the heart of the album, a verified savior of pop, Charli seamlessly binds musical genres from the vast pop spectrum. With Executive Production by Charli XCX and A. G. Cook, collaborators include Lizzo, Christine and the Queens, Haim, Troye Sivan, Brooke Candy, CupcakKe, Big Freedia, Sky Ferreira, Clairo and Yaeji. Charli teamed with AR makeup artist Ines Alpha to design her artworks with a goal of dismantling classic beauty ideals, a pairing which resulted in her striking album cover.