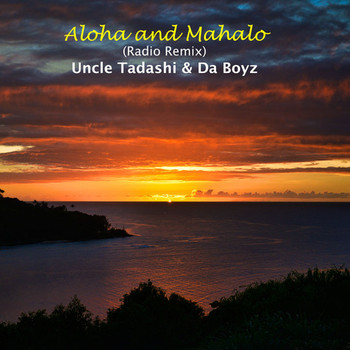 A lovely, gentle piece of chamber pop radiates from Uncle Tadashi & Da Boyz tender "Aloha & Mahalo". Going for a slightly different approach than their usual sun-drenched style, this one still highlights their lush instrumentation and attention to detail. By far the true heart and soul of the work comes from the majestic vocals. Multiple vocalists lend the whole of the piece a communal presence. This approach fits nicely with their usual style, their uncanny ability to seemingly include the whole group in a beautiful spirit of interplay. With such truly magnificent melodies the whole of the piece has such a gorgeous presence. Full of color and light, they delve into a deeply felt passion.
Things start off slowly for the group goes for the atmospheric. Resonant piano plays while the song gradually evolves. Every singer has their own unique delivery further adding to the kaleidoscopic quality of the piece. Letting things build up works wonders for them for the whole of the piece has an almost symphonic presence. Cyclical in nature they allow the movement to grow and grow in a way that feels quite organic. For the final stretch of the work they incorporate their trademark Beach Boys' infused vocal harmonies, in a way that feels particularly earned as it slowly fades out in a pitch-perfect fashion.
"Aloha & Mahalo" shows Uncle Tadashi & Da Boyz looking at their old sound in a new way, featuring work that positively shines.