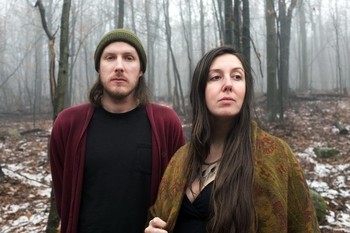 She Keeps Bees' first LP for Ba Da Bing comes out May 10th. Preorders start today. Kinship is richly dark; its lyrics observing nature and the environment from omniscient perspectives. With their first single "Coyote", Jessica Larrabee and Andy LaPlant honor 20th century environmental activist, Smithsonian Folkways musician and actor Katie Lee, with an accompanying video documenting Lee roaming the Arizona canyons she loved. It's the perfect introduction to the entrancing and emotionally strident force of Kinship.
Kinship will be released on Ba Da Bing in North America and BB*Island in Europe.
Watch "Coyote":
Stream "Coyote":
A meditative and endlessly turning clutch of songs, She Keeps Bees' Kinship reasserts the band's elegant power in a stream of loss and regeneration. Death, birth, both personal and in reflection of Earth itself emerge through Jessica Larrabee's focused, empowered voice. With Larrabee and Andy LaPlant's first album in four years, She Keeps Bees peels away their distorted guitars and fills the void with hypnotic organ, keyboards, strings, a tight bed of drum grooves, and a direct lyricism full of with wisdom and intention. Kinship is an album that radiates its messages with deft knowledge and immeasurable strength.