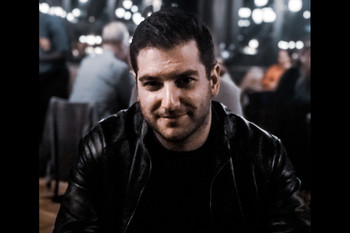 Jonathan Wax entered the music business in 2009 while a student at the University of Miami, to help develop the career of his brother, pop-rock artist Mikey Wax. With the music scene becoming an over-saturated market, he was challenged to think out-of-the-box to build Mikey's career, and founded 4×4 Artist Management. With a humble yet persistent approach, including a grassroots strategy to build a strong social media fanbase, the Wax brothers built a modest resume in the DIY scene. Following a feature on the YouTube homepage gaining 500,000 views overnight, a weekly placement on the FOX hit show "So You Think You Can Dance", and several national tours supporting reputable acts, Mikey signed a worldwide recording contract with Toucan Cove/Universal Music, and a worldwide co-publishing deal with PEN Music Group.
Since then, Mikey's anthemic single "You Lift Me Up" and its electronic remix have hit a combined 10 million Spotify streams, 2 million YouTube views, and placed in a Keeping Up With The Kardashians promo commercial on E! among other numerous TV placements. His single "Only One" landed rotation on SiriusXM The Pulse & other Mediabase HOT A/C radio stations across the country. His marriage equality anthem "Love Always Wins" was featured in the Caitlyn Jenner 'I Am Cait' promo commercial after premiering on RyanSeacrest.com. His uplifting single "Helium" was featured in a major Hollister Clothing ad, and just passed one million Spotify streams. His electronic pop single "Spaceman" was featured in a worldwide online Nike Swim ad. And his most recent single "Big Little Life", written for his wife-to-be, was featured on Spotify's New Music Friday in eight countries. Over the years, Mikey Wax has gained over 1 million social media fans combined and 15 million Spotify streams.
Jonathan also runs 4×4 marketing, a NYC based multi-service, boutique-style firm. 4×4 marketing specializes in social media promotions, marketing, branding, sponsorships, licensing & consulting. Clients have included Wind-Up Records (Sony), Aaron Carter, Ninedays, Blessid Union Of Souls, Foundations Management (Owl City, Dispatch, Young The Giant) and Rob Fusari, among other talented artists. 4×4's clients have toured with many reputable acts and have attained thousands of real fans thanks in part to a hands-on marketing approach. 4×4's artists have also been placed on major outlets like CBS, FOX, NBC, MTV, & Billboard. 4×4 has also proudly provided artists with endorsements including Guitar Center, KORG, Jango.com, & Tanglewood Guitars. Jonathan's unique approach was recently acknowledged when he was invited to be a panelist at both CMJ and Driven Music Conference, speaking alongside other managers like Joe Simpson (Ashlee & Jessica Simpson), & Fred Croshal (New Found Glory). Here he provided artists with creative advice on how to grow in the quickly changing music business.
Wax understands the importance of each and every fan, providing unique opportunities for his artists to truly connect with them. Feel free to e-mail him and say hello!
E – Jonathan@4x4ArtistManagement.com
What made you enter the music business?
I was a senior in college and my brother, singer/songwriter Mikey Wax, had just finished up his debut album. I loved the record and genuinely wanted to help get it out there. I started blindly reaching out to people in the music industry, while also marketing his music directly to potential fans on the web. Within a few months, we landed a song of Mikey's on a TV show on CBS that was popular at the time called Ghost Whisperer, and shortly after that, we got the music video for his single 'In Case I Go Again' featured on the homepage of YouTube. The video gained a half-million views over night, and things naturally progressed from there. I didn't realize at the time that I was playing the role of manager, but before we knew it, Mikey was calling me his manager, and so I founded 4×4 Artist Management.
How hard was it to learn the ropes of artist management?
I definitely had to learn on the job, and I still learn something new every day as the business continues to evolve in today's digital world. But artist management has always been the right fit for me. I remember during my last semester in college, I was reading an artist management book in my spare time (written by Paul Allen) just to get some tips. Everything I read felt like a match with who I was as a person. A few days later, while roaming through the school book store to pick up some textbooks for my film classes, I saw that same artist management book on the shelf. This meant there was an actual class on that book. I literally ran over to my guidance counselor to switch me into the artist management class. She did, and a week later I was sitting in a classroom being taught the ins and outs by industry veteran Bruno Del Granado, who at the time was managing Ricky Martin. He now runs the CAA Miami branch down in Florida, and is still a mentor and friend to this day.
Your brother has had a lot of his songs placed in TV shows and commercials. How did that come about?
After the YouTube homepage feature, things grew at a nice pace and we got my brother on some support tours, including a leg opening for Jon McLaughlin who had a single out featuring Sara Bareilles at the time. We were starting to land some radio airplay for Mikey's song "Counting On You" on mediabase HOT A/C stations, and I wanted to keep that momentum going. So I did what I could, and with a little bit of naivety and boldness, I reached out to the music supervisor of So You Think You Can Dance. I didn't hear back immediately, and a few months passed by so I figured I was out of luck. Then one day I got a call from that music supervisor (Nancy Severinsen). She and her team loved the song and were considering using "Counting On You" for the elimination montage of an episode. Sure enough it came through! And soon after, we found out they wanted to use the song for all the remaining 5 episodes that season during each elimination montage. It was a huge career boost for Mikey and really helped push things along. It also started a nice domino effect of syncs, and allowed me to open up conversations with other music supervisors. A few more placements were landed, and in 2015 it was taken to the next level when E! Entertainment licensed Mikey's song "You Lift Me Up" for a Kardashians promo commercial. A year after that, his song "Helium" was used in a worldwide online ad campaign for Hollister Clothing. And a year after that, his single "Spaceman" was used in an online Nike Swim ad. Don't get me wrong, this stuff is never easy, and Mikey still isn't a household name by any means. It's an incredibly competitive and challenging environment as this type of exposure is great for any artist at any level. Despite how tough it is, I always strongly encourage every artist I talk with to find a sync licensing agency so that they can start getting their music pitched for placements. For Mikey and I, we do our best to build on our momentum and success to keep landing more placements. The music of course has to be strong, and Mikey truly has continued to deliver authentic pop/rock songs.
I see that you've actually co-written some songs with your brother?
Hah yep! We've both been playing piano since 8 years old, and my brother and I bounce ideas off each other pretty regularly. We trust each other's ear. Ultimately these are his songs and I provide input here or there if he wants it. But in terms of true co-writes, a few years back he was playing the melody for his song "You Lift Me Up" on piano. I was in the other room, and knew instantly that it was a strong hook. I ran out and basically didn't let him leave the piano until the song was finished. We completed the song that day, and a few months later secured Mikey a record deal (with Toucan Cove/Universal) to put out the single. The tune has since attained over 10 million Spotify streams through its various mixes. Seeing it on some of Spotify's top playlists during those first few months of its release was really cool. A handful of friends texted me when it popped up randomly on their Spotify, and we are humbled by Spotify's continued support including Mikey's latest single 'Big Little Life' which was placed on New Music Friday in 8 countries. I think the co-write I'm most proud of is Mikey's song "Love Always Wins." He wrote it right after the legalization of gay marriage. I provided a small writing contribution to that song, and within a week of it being recorded, we landed the song in a promo commercial for Caitlyn Jenner's highly anticipated "I Am Cait" TV series. It was a fun project and I love seeing something go from conception to being heard on national TV.
So how has 4×4 grown since then?
Well fortunately, from the TV syncs, radio airplay, streaming, and social media fans that Mikey has attained (he now hosts 1M+ online fans), we proudly secured Mikey a worldwide co-publishing deal with PEN Music Group not too long ago. He's been primarily focused on writing pop songs for other artists, and I have since been able to build 4×4 into a full-service marketing firm, providing marketing services for over 300 independent musicians, and sharing weekly analytics to companies like Foundations Artist Management for their clients (Dispatch, NeedToBreathe, Lauv, etc). I've also been invited to speak on panels at conferences including CMJ and the (now defunct) Driven Music. I love meeting new artists. It's all been an amazing experience and I hope to keep growing.
I see you have a little side-hustle in the space community?
:) I do indeed. Over the last few years I've really fallen in love with anything and everything space related, thanks to the brilliance of people committed to space exploration like Elon Musk, Richard Branson and Jeff Bezos. I really dove head first into all things NASA, past and present, and haven't been able to stop. About a year ago I created the Instagram account @SpaceFactsWax, sharing inspiring space facts that I personally found interesting. I'm certainly not the only space lover out there, as the account has since passed 12K followers. The best part is that it led to me being invited by the NASAsocial team to attend a launch and go behind-the-scenes at their Wallops Island facility in Virginia. It was an incredible experience. I definitely want to keep inspiring and educating anyone willing to listen.
And speaking of listening, thank you for taking the time to hear my story!