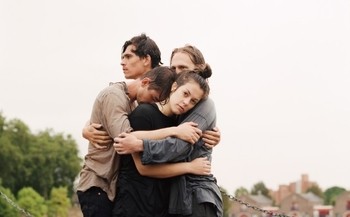 London based alt-pop quartet Dahlia Sleeps today release their much-anticipated new EP 'Love, Lost' via Beatnik Creative. Recorded and produced in the band's own basement studio in South London, the new EP is a stunning 7 track journey through human emotion – navigating themes including struggle, intimacy, and defiance. Deeply emotive, the subject matters are all exquisitely wrapped within swirling, atmospheric, and soothing pop music.
Opening with its lead single, 'Storm' – keyboardist and producer Luke Hester's haunting, skeletal electronic production, paired with singer Lucy Hill's delicate, soulful vocal form quite the partnership. Complimented by reverb-laden, lilting guitars and atmospheric electronics, 'Storm' sets the tone beautifully for the rest of the EP.
"It feeds into a project that is all about seeking truth and honesty and putting it on record – whether that be grief, anger, love. Often things that have been left dormant and unresolved," said singer Lucy Hill on the 'Love, Lost' EP.