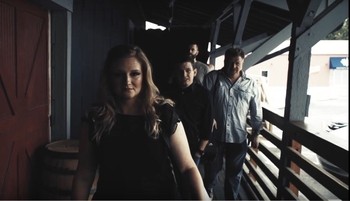 Lexington, Kentucky-based bluegrass band NewTown has released a video for "Long Hard Road," a song about the sharp sting felt after leaving a loved one.
Written by acclaimed songwriter Tyler Childers, "Long Hard Road" tells of the intense longing a couple feels while they are apart, and how the feeling of home can change depending on who's there. Sung by Kati Penn Williams, the track from NewTown's latest album Old World shares a relatable story that kept bringing Williams back to the song.
"'Long Hard Road' is one of those songs that comes along very few times to a band. It tells such a great story, I think very relatable, and Kati does a fantastic job delivering it," says Jr. Williams, vocalist and banjo player for NewTown. "We hope everyone enjoys the video as much as we enjoyed making it!"
The video, which The Bluegrass Situation premiered January 16, was filmed by Bo Allen with Bopro Video at The Burl in Lexington, Kentucky.