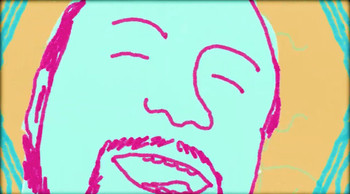 Following his last release My Wallet is a House of Cards' off the 2018 album "Little Boat", Singer/Songwriter Ajay Mathur has debuted his latest collaborative fan video effort of 2019 – "Time For Deliverance"!
Crafted from the vibrant art and design of director/animator Mertcan Mertbilek from Istanbul (who previously worked on the video for Mathur's "Little Boat" single), the video is a uniquely visual. Portraying animated paintings from Mathur singing to beautifully enlivened surfers riding waves, palm trees, beach and boardwalk scenes which beautifully counter the bluesy feel of the song and lyrical refrain "It's my time for deliverance no I ain't giving up on love" with vibrant color.
Little Boat, Ajay Mathur's newest album, was launched on its maiden voyage in the usual way in spring of this year. Quickly picked up by playlists and fans, the music and the album's message of resilience has resonated with listeners and critics alike. Unlike previous projects, though, Little Boat has taken on a life of its own, picking up unexpected passengers along the way.
Independent of each other, diverse digital artists from around the globe including from Istanbul and Warsaw as well as an Argentinean in Los Angeles, heard a call and felt compelled to add some valuable cargo to Little Boat's journey. The result is a colourful, complex and highly-imaginative work of animated accompaniments to Ajay's songs.