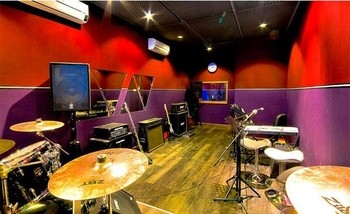 Home decoration is an art that expresses your creativity and personality. Whether it's your office or home, creative people love to see inspiration around them. Music is something that inspires everyone. Therefore, home decoration for music lover has to be more creative and inspirational. There are plenty of ideas to boost the musical spirit of music lovers. If you are also a music fan and, looking for some home decor inspiration. This article is all about the decor ideas to highlight the musical spirit of the homeowners. You need to keep up and experience with new trends. A neon sign wall décor can add a lot of life to your home. It can lighten up the atmosphere and keep you in a good mood everyday.
If you are a music lover, you'll definitely admire this amazing floating Bluetooth speaker as one of the home décor items. It would be cool to have something in your home that not only freshen up your mood with music but also add a decorative touch with its lighting. Nebula Floating Bluetooth Speaker from Floately is one of a kind of smart gadget that you should have in your home. It levitates and lights up as music plays. This levitating speaker can easily be paired with your phone, tablet or laptop via Bluetooth and create crisp and clear wireless sound. You can also use it as a portable speaker by removing it from the base and can make and receive calls using a sensitive speaker it has inbuilt.
Continue reading to find some of the inspiring home decor ideas for your home decoration.
Make the walls your canvas
Whatever music you prefer or instrument you like, you can find wallpapers to express your music love in form of art. According to many top interior designers, music home decor is among the best theme. Music expresses the language of your soul. If you want your home to speak the same language, paint it in a musical rhyme. You can color the whole wall in the music or just a few sections describing the parody of your favorite music.
Creative furniture
Centre table is the main centerpiece in any house. If you are a music man, you might get more creative here. How about a drum table or a piano chairs? Yes, you can find furniture in shape of your favorite musical instruments. One of the popular music tables is a guitar shape tables as there are numerous style and design to bring your creative side to life. Besides, drinking coffee sitting on a sofa designed in an artistic musical instrument shape become more sweeter experience. You can also go sober here by choosing the couch in normal shapes but in musical covers. Even that adds the beauty of the room.
A collection corner
All music lover have some or the other kind of collection to express their music love. Every collection deserves to seen and showcased to let your visitors know about your amazing passion. Your collection can be records, posters of favorite bands, a collection of instruments, a collection of concerts pictures or can be anything you have the passion for. You can add your music love to your home by having a gallery area for your mind-blowing collections. If you want to keep the privacy, make sure you have a separate room for your music passion or either in your bedroom.
Rugs with music
Rugs are the all-time favorite thing of all the interior designers, it adds so much volume and texture to bland rooms and also covers the boring flooring. Many interior designers have confirmed that a piano keyboard, guitar and vinyl record rug in the living room is a great way to improve the overall charm and make your home more attractive. You can put a musical rug in your bedrooms and living room. This rugs add melody to the home decor and make it more music-friendly that inspires your inner artist every time you step in. You can even find the doormat in piano or guitar shape to make your entrance more unique and cheery.
Don't forget the music patterns
You will be amazed to find collection and designs. Music patterns are very popular and soothe your mind whenever you are around it. You can pick music pattern cushions, bed-sheets, curtains, and tablecloths to give your house more musical feel than ever. This the is an easy and budget-friendly way to make your room more musically and inviting. There are several online websites or stores that offer amazing music prints and patterns in many products. If you use coupons while buying online, you can save a great sum of money. Before heading to online store grab the suitable coupon codes from sites like Couponobox and, then proceed further to make your desired product purchase.
Musical lamps
One thing that is always classic is a lamp stand. It is always useful and makes a very good home decor. If you pick a lamp which is more inclined to the music world, your home decoration can be more inviting for music lovers. Remember to choose the right shade and style for your bedroom and living room area so that it matches perfectly with your interiors.