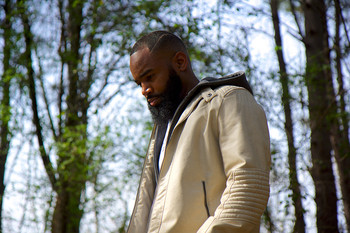 Joshua Israel is a preacher and award-winning singer-songwriter – not to mention, he's a proud businessman and most importantly, a devoted husband and proud father of seven beautiful children. He grew up surrounded by music in the church with a father who was also musically inclined, and started singing in the choir and playing drums in the church when he was a child. When he was 19, he started leading worship and writing his own songs, ready to inspire others with a message of hope and remind them that they are loved.
Taking influence from everyone from James Brown to Kurt Franklin to Rod Stewart, Joshua Israel is a well-rounded musician. He's a realistic and practical musician, and writes about real life situations – dealing not only with what he feels, but what he knows. As an emerging indie artist, he won Best Group/Duo at the 2016 and 2017 Atlanta Gospel Choice Awards, and has made several appearances on TBN, TV 57 (WATC/Atlanta, GA), Internet TV, Radio One Gospel Jazz Live (Atlanta, GA), Bobby Jones Presents, Rev. Jesse Jackson Sr. and Rainbow PUSH Coalition Conference.
Joshua's latest offering is "You're Not Alone", and it has a message we all need to hear. The song reminds the listener that God is always with them; even if they are not in religion, he's always there. The song came to him when he was leaving religion and heard God's voice in a dream, telling him "It's okay, you can leave – I'm with you, period." Filmed in the metro Atlanta area, the "You're Not Alone" video captures different scenarios that people go through when they feel alone, but ultimately gives a reminder that you can overcome what you're faced with because you are never alone.