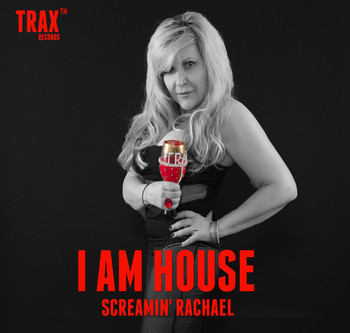 "I Am House", celebrates its powerful unveiling and release on November 30th via TRAX Records, by globally renown artist Screamin' Rachael dubbed "Queen of House Music" by Billboard Magazine. Like a raging Tsunami, Rachael remains supreme in the House style genre and creates an insanely explosive presence wherever she goes. Screamin' Rachael is indeed "House."
Born in Chicago, Rachael Cain is also the President of TRAX Records, the original home of House Music, being the first label to include the DJ's name on their releases, and changing the way in which the planet viewed the genre. Rachael was also the first House artist to sign a major label deal. She also launched the Hip House sound with Fun with Bad Boys with Afrika Bambaataa, her friend and mentor.
I spoke with Rachael in depth, and the shared questions and answers with her regarding her new single, her career, and TRAX Records.
How did you become involved with TRAX Records?
I am one of the original artists at Trax. As kids Jesse Saunders, Vince Lawrence and I met Larry Sherman at Precision Record Pressing Plant in Chicago's legendary Bridgeport area, home of the Daley Dynasty, which ruled our city's politics for decades. Back in those days Chicago was racially divided and our sound of House Music brought people together. We were kids with a dream and today our vision is bigger than ever! When I lived in NYC, I met Sylvia Robinson, the woman behind the famous Sugarhill label. She sang, performed, wrote songs and essentially was the original person to put Hip Hop on the map. She mentored me and helped me go after my dream to bring House Music to the world. So dreams do come true!
What sets TRAX apart from any other record label?
Trax Records stands as the original Home of House Music. We are a small label with a huge footprint! It's great to see how House Music went from "what the hell is that?" to become a leading genre. In fact, now that House is everywhere, it has become the rock and roll of our generation.
You are about to release a brand new song as Screamin' Rachael. I know that song has significance, so from your point of view let's hear it.
I'm known as Screamin' Rachael because I'm petite but powerful! I've had many notable songs in my genre. These days, people like David Guetta try to take credit for bringing House Music to America. When he did that on ABC Nightline, the fans went crazy with dissent. Then of course Kanye West has been sampling House for quite some time. He did it on Stronger, Fade and recently used the Trax classic, Boom Boom to create Lift Yourself. So my new song I Am House which was written with House Godfather Joe Smooth who brought us Promised Land, one of the most inspirational House classics is meant to set the record straight and basically tell the story of the House Music lifestyle. It's a fun song! DJs everywhere are pumping it even though it's not officially released until November 30th.
I don't know who much you can divulge, but tell us what you can about Kanye West.
The way Kanye West came about sampling us was crazy! I was getting ready to fly out to DJ at my monthly party at the LA Ace Hotel and the news came on. There he was performing his new controversial song Lift Yourself. I thought, "What the hell, has Kanye gone crazy?" So then I landed in LA and Vince Lawrence, with whom I started in House, gave me a call. He said an artist whose name started with a K and whose wife name started with a K, wanted to use our song. He put me on the phone with John Monopoly whom I knew from Chicago's hip hop scene. We met in LA and I asked him what song Kanye wanted to use. He said it was Boom Boom and when I said I had to know which song because we have two Boom Booms, he said, "That's easy you can hear it now, just go to kanyewest.com." So he had released it unauthorized! On top of that, he was in a hurry to release it because he had promised Drake to use our beat together! That became a beef that made it to Rolling Stone Magazine! In fact, no one knows the beat is from Trax. It has a Wiki page that's incorrect. I tried to fix it and got banned for seven months. I don't care though because I have a contract with Def Jam. So that's the scoop on the poop! Or shall we say the "poopety scoop!" Even the people that hate the song say the beat is fire and the beat is TRAX.
Running a record label can't be all work and no play, so talk about what you love about it.  
I love being President and basically getting to work with all the music I believe in and cherish. And I'm glad to say that I stand out in a game where artists that do what I do are all men. Think about Master P and Jay Z, etc. This is a dream come true for me. I make my own music on my own terms too… I'm blessed and I thank God everyday.
Are there any new projects on the horizon either for TRAX or Rachael?
So much is going on now. This is the most exciting time for the label and my life. The new Grand Theft Auto 5 is coming out with our music, the fashion brand Maison Kitsune is using our music for the upcoming Acid Collection, I've got a follow up song  to I Am House, with Space (the band that influenced Daft Punk) set to go, called Magic Fly. It will be the first vocal version of that already massive hit instrumental Magic Fly. We signed Chris Jones, Grace Jones's brother who is amazing himself! Look out for his single and album Strong. Then of course it looks like we will be working with Doctor Dre from Yo MTV Raps… I could go on and on!
Is there anything I left out that you'd like to cover?
The only thing I've got left to say is look out world – TRAX is Screamin' HOT!
Check out I AM HOUSE on youtube here:
The official website for TRAX Records may be found at http://www.TRAXRecords.net
Follow Screamin' Rachael on Twitter @RachaelCain
Follow Trax Records on Twitter @TRAXRECORDS