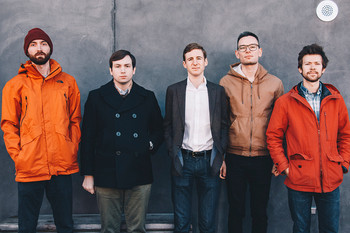 Introducing Earthquake Lights, the band from New York City that's putting a different spin on modern rock. This group has an affection for both heavy guitars and softer tones, making every listening experience a sonic dichotomy. Influences like Radiohead, Pink Floyd, Beck, and The Who give their textures and harmonies a fresh voice that can be heard on their upcoming debut album, Distress Signals.
http://www.facebook.com/EarthquakeLightsBand
Earthquake Lights is composed of five musicians: Myles Rodenhouse, Cameron Underhill, Evan Douaihy, James DiGirolamo, and Stephen Helms. All of them started playing instruments early in life, which led them down paths that would eventually cross in college. Brought together by similar taste in melodies, harmonies, and tones, they developed a hunger for something musically unique. Their classical and jazz influences are clearly audible, producing musical twists and turns that will be on full display when their debut album Distress Signals releases early next year. This record is a labor of love several years in the making and was tracked over multiple sessions at two great studios, first at Douglass Recording in Brooklyn and then at Abbey Road, the same studio made famous by the Beatles.
Their latest music video for "Choke 'Em Up" was recorded live in-studio at Douglass Recording and puts their combination of heavy hooks and melodic sensibility on full display.