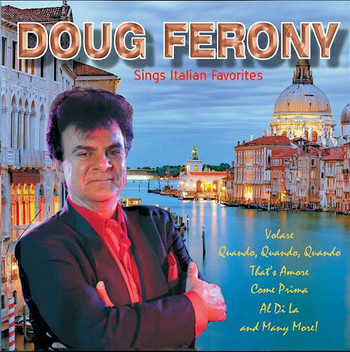 Doug Ferony sings with a timeless, tasteful mixture of pop, jazz, swinging through on the lush sweeps of "Doug Ferony Sings Italian Favorites". Absolutely beautiful, his inclusion of a wide variety of styles feels so soothing. Elements of Bossa Nova and lounge anchor the entirety of the gorgeous journey. With a sound reminiscent of Frank Sinatra's lush arrangements, the pieces seem to virtually burst at the seams with an untold amount of life. Creating small vignettes these lyrics seem to resonate in a way that feels so real, so true.
Opening the album with considerable fanfare is the joyous celebration of "Ain't That A Kick In The Head". Easily the highlight of the album comes from the long-lost scope of sweeping "Quando Quando Quando". Full of yearning and tenderness, Doug Ferony's vocals have a great soulfulness to them. With an urbane twist is the brilliant swagger and reassurance of "You're Nobody Till Somebody Loves You". Melodic bliss permeates all of the lovely lilting "Come Prima". Going for a slow, reflective tenor is "Everybody Loves Somebody". The gracious horn section and fanfare of "Isle of Capri" adds layer upon layer of sound in a gorgeous swirl. Playfulness permeates "Al Di La". Such a fragileness courtesy of the beautiful mandolins of "Non Dimenticar". Perfectly bringing the collection to an intimate conclusion "Innamorata" scales things back to the absolute essentials in a way that sounds pitch-perfect.
With "Doug Ferony Sings Italian Favorites" Doug Ferony crafts an entire world, one that deftly defies expectations with its cinematic sweeps of sound.
Artist WebSite: https://www.dougferony.com/