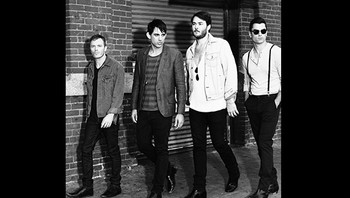 Downtown Los Angeles is one of the hottest neighborhoods in the city, but not too long ago it was a hollowed out shell of it's former glory. Empty storefronts, vacant theaters, and abandoned warehouses dotted the once proud streets as residents flocked to trendier areas like Silver Lake, Echo Park, and West Hollywood. But just like in many cities it was the artistic community that saw not empty buildings but rather a blank palette. A steady stream of visual artists, musicians, and filmmakers set up shop in the loft spaces and helped transform the area into the renewed cultural destination it is today.
One of the most longstanding contributors to that scene has been The Ivy Walls. The dark synth-rock outfit has been a staple in the city for the past decade and have endeared themselves to not just music fans, but the talented and famous alike. With a sound that is described by frontman Jeff Yanero as inspired by "a fusion of the standards like Ride, Slowdive, JMC, and Echo and the Bunnymen" and then mixed with contemporaries like Secret Machines and The Daysleepers, it's not difficult to imagine a sound that is a rapture-like experience. Layers of reverb-soaked tracks create a bed for the soothing vocals that lay on top.
Their new album, Pheromones, is the band's fourth album and their most ambitious yet. Originally intended to be a 90s New York-inspired group of cold wave songs, it evolved in the writing process to become a "sonic version of what it's like to live and love in this Lord of the Flies environment." The first single is the dream-like tune for "White Ocean," which finds lead vocal duties being shared with frequent collaborator Chrissy Depauw. As the two trade lines about slipping away and hearts growing cold, the listener can only wish that their own personal heartbreak would ever sound so peaceful.