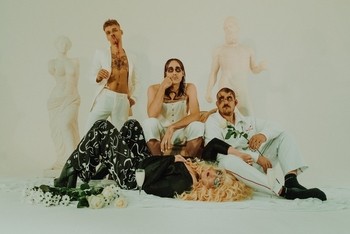 Hailing from culturally diverse city of Brighton, LibraLibra's sound is a heady mix of tribal beats and broken guitars, all fronted by the strong and commanding vocals of frontwoman Beth Cannon. Having gained heavy support from the likes of BBC Introducing, The 405, Les InRocks and Get In Her Ears, for their previous singles Animali and Tongues, the four-piece return with the ambitious and colossal Skin & Bone.
Lead singer Beth Cannon's vocal ability has received deserved accolade throughout her career with her command of script prompting comparisons to Kate Bush and Björk. Some may recognise her voice from Simon Raymonde's Lost Horizons (Bella Union), where Cannon wrote and performed on lead track Bones and fronted the band throughout a summer of festivals including Green Man, End of the Road, Seachange, Kendal Calling, Bluedot and many more. While her powerful presence is unmistakable in everything she does, LibraLibra is a different beast and really showcases the direction Cannon is heading in, which is ultimately a more dark and twisted path.
Continuing the sound that has left many comparing them to The Knife and tUnE-yArDs, Skin & Bone establishes them as a true force to be reckoned with as they showcase their mastery for high-energy sounds and thunderous pace. With Cannon's own lyrical flow sitting front and centre of this release, the frontwoman unleashes a head-spinning yet powerful performance on one of the band's most engaging singles to date.