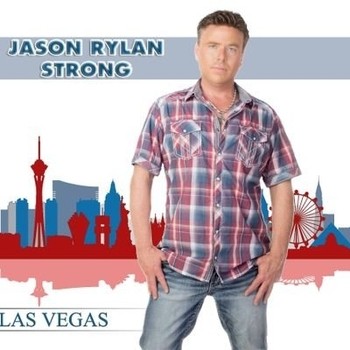 So we are here on a Wednesday, so good to see everyone today. We are so excited to have Jason Rylan here and he has brought along his new single, 'Strong.' When you hear from Jason speak here on the meaning behind the song, it is hard to hold in your emotions. So lets get right into with Jason Rylan & 'Strong'!
Can you talk to us more about your song/single – Strong?
I started writing "Strong" last August, a few months prior to the Route 91 Harvest Festival tragedy. My cousin, Denon was killed by a Seventeen-year-old who stole his parent's car. He was street racing at 95mph to impress some girls and hit her car. She was like a little sister growing up. It was a complete shock for the entire family. She would never see her two daughters 16th birthdays, graduations, get married. It was a very emotional time.
A few months later, the Route 91 tragedy happened here in Las Vegas. Everyone I know here in Vegas was stunned and the entire town was very emotional. I was still grieving along with many other family members and starting thinking about the hundreds or rather thousands of people that lost a husband, wife, mother, father, brother, sister, a friend…So many people lost loved ones. There many tears across the entire valley.
Yet, through all of this turmoil the Las Vegas community came together in such a selfless way that I've never seen before. In a city that thrives on gambling, greed, glamour, and lust, so many people were donating blood, time, water & food, shelter, funds. There were vigils and people simply trying to comfort each other. I was deeply moved and touched by how truly awe inspiring this was. I think that's when "Strong" really started to flourish and manifest further.
Is the song posted on Youtube, Spotify, Soundcloud, etc so we can hear it?
Yes, it's on all major online music distributors and channels such as YouTube, Spotify, Soundcloud, as well as iTunes and Amazon.
Did any event in particular inspired you to write this song?
Yes, please see above (#1)
Any plans to release a video for the track?
We've been working on video off and on for this track and other various songs. I wasn't particularly fond of how this video was turning out as it didn't really showcase the emotion, the loss, the strength, and the solidarity that was so inspiring here in Vegas. It wasn't as polished or elegant as I would like. So, I've shelved the project for now. I'd like to wait and release it after we work on it some more.
The single comes off your new cd – what's the story behind the title?
"Strong" is the title of the single. It was written as a tribute song for the Route 91 Harvest Fest tragedy victims and first responders as a result of the shooting that happened here in Las Vegas last year; as well as for my late cousin, Denon.
How was the recording and writing process?
This particular song was very emotional to write and record. Originally, I wanted to write a song for my late cousin, Denon, and then the song evolved with the events on October 1st. I think the song and the message became more universal in nature; something that people can really relate to. There were a lot of tears that went into this particular song, but overall I'm happy with how it turned out and how it's been received by the Vegas community so far.
Known for playing with different genres – how do you get to balance them together?
I think it really just mainly has to do with having a set melody and concept. There are a lot of songs and artists these days that cross genres and I think we are going to see a lot more of that in the future.
Where did you find the inspiration for the songs and lyrics?
Yes, please see above (#1)
Any plans to hit the road?
No plans on touring at this time, but maybe next year with the right touring partners after I release another full-length album. I'd have to see if this would work financially with the right partners.
What's one thing we'd be surprised to hear about Jason Rylan?
I'm pretty introverted, believe it or not. Some people take that as aloof while others interpret it as shy and timid. I guess I'm always just off in wonderland, thinking up new songs and new ideas.
Name one present and past artist or group that would be your dream collaboration? Why?
Hands down, I would have to say Madonna. She is a legendary Icon in the industry who continuously pushes boundaries, crosses genres, and reinvents herself. She has a way with Electronic and Dance music and I think would just be a blast to work with her.
Is there an up and coming band or artist you think we should all be looking out for now?
There are always up and coming artists. I'm not sure who would be on the 'watch list' so to speak. More importantly, I think it's great to hear when the public is supporting their artists based on the music, not just basing their decision on who is trending.
What else is happening next in your world?
Right now, still working on finishing up my fourth album. I plan on releasing it early next Spring (2019). So far, it's turning out to be another hybrid album that mixes genres. I plan on including this latest single "Strong" and also a licensed cover/remake of Stand By Me.