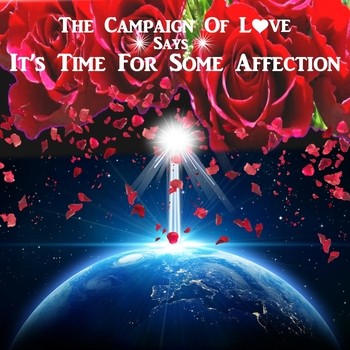 The Beatles said, All You Need Is Love. LTD with Jeffrey Osborne asked for, Love To The World. Jackie DeShannon sang, What The World Needs Now-Is Love. Al Green posed, Give Us More L-O-V-E. Nicolette Larson realized, It's Gonna Take A Lot Of Love. We could go on and on mentioning songs about love. There are more songs written about love than any other subject of interest within human society.
Since all the above are correct, Serious Records Inc, Sparkx Radio Network, in association with SJR Media Group Entertainment, and Radio Personality, Skip The Funktologist, we invite everyone to join in and share with us "The Campaign Of Love." With so much division and discord taking place amongst the human family, "It's Time For Some Affection." Yes the need for more love and affection towards our fellow man has never become more evident! This release will focus on the four major aspects of love as defined by the Greek Language, which include love for neighbor, love for family, love for friends, and intimate love.
The music on this release feature's a mixture of songs from the older and newer generations of artists. They have been handpicked by Skip The Funktologist, who in all reality, plays very few love themed songs during his broadcast's. The fact that he chose these songs means that they all found their way into a rare playlist that is reserved for a special moment in his show called "It's Time For Some Affection." The music on this compilation contains slow, medium, and up-tempo songs. We are confident you will enjoy their feel, sound, and message as much as we do. From the lyrics of the 70's group Redbone, Come And Get Your LOVE!