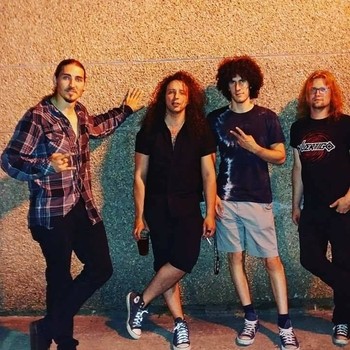 The world outside of western Canada is introduced to the hard rocking Calgary-based In/Vertigo in their new single "Bad Enemy," which comes ahead of their much awaited debut extended play due out this fall. Canada has been having somewhat of a renaissance year in the music scene, but no band has had critics talking more than In/Vertigo, and word of their sterling reputation as a juggernaut act has even spread to American ears. "Bad Enemy" is everything we could have hoped for in a virgin outing for the group, and I had the distinct privilege of previewing the track prior to its release this month. To say I was impressed with what I heard would be putting it quite mildly, and I expected quite a lot out of this band.
Equally influenced by vintage heavy metal and alternative rock, In/Vertigo's sound doesn't copy the formulas of past iconic groups but instead borrows some of the best elements of classic music and forges them into an identity all their own. From the opening wail of the song, we know that we're listening to something tough, abrasive and heavily steeped in 21st century modernism. There's plenty of old school thrust, but the band is very careful to avoid drifting into hazardous retro territory. To answer the obvious question – yes, this song could fit in with any melodic metal playlist, Canadian or otherwise, but In/Vertigo is not a reprint of a Rush tribute band that should have hung it up ten years ago.
2018 really needed a hot rock track to shake up the charts, and "Bad Enemy" is just the dose of cutting edge fury that the doctor ordered. It's sleek enough to appeal to the casual pop crowd but spaciously designed for true rockers to enthusiastically appreciate its thousands of steaming nuances. I've always said that first impressions will make or break you in this business, and from the very moment I pressed play on this single for the first time on, I knew that I was listening to something really significant to this era in rock music. In/Vertigo are going to be a smash hit, but more importantly I think they're going to shine a light on a Canadian scene that has never gotten full recognition for its diversity.
I can't wait to hear what In/Vertigo's upcoming EP is going to sound like, and if the other three songs it's projected to contain are on par with the level of sheer tenacity that "Bad Enemy" comes packing in spades, it might be the biggest selling extended play of the autumn. It's hard to determine where any artist or band will be five or ten years from now (all the more when they're at the very start of their career), but I have a really good feeling about what this Calgary crew is doing and where it could possibly take them in this unfolding new chapter of rock n' roll history. I'll be following up along the way, and I'm certain I won't be alone.
FACEBOOK: https://www.facebook.com/getinvertigo/
Gwen Waggoner