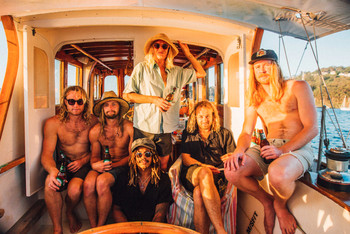 Australian psych-surf-rockers Ocean Alley have shared the video for their new single, 'Happy Sad', taken from their new album Chiaroscuro, out now.
A staple of their live shows and a truly memorable moment for all those in attendance, 'Happy Sad' is a true epic that sticks with you after every listen. The song showcases the depth of the bands song writing, allowing them to showcase their adept nature to creating psychedelic bliss through a juxtaposed soundscape, alongside a brooding lyrical journey from vocalist Baden Donegal.
Accompanied by a video born from 4 cameras and 8 rolls of film, generating over 10 hours of footage on the bands tours of Australia and North America, videographer Tyler Bell of local Sydney collective The Sauce has perfectly captured the broad beauty of the song to take the listening experience to another level.