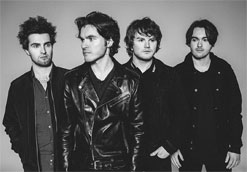 Hailing from Manchester, UK, Pacific has washed up on shore and is now ready to tell the tale of their travels. They've worked hard to evolve their sound and the band are now ready to take the world by storm. They blend alternative, indie, and pop, and have also been interestingly described as a perfect combination of Elton John and Kasabian. With their piano prominence growing edgier and more rock-centric, Pacific's energy continues to rise to the next level.
Pacific is composed of brothers and songwriters Anthony Orzel (vocals and piano) and Daniel Orzel (bass guitar, synth, and backup vocals), along with Dave Bithell (guitar) and Drew Burns (drums). Together they have risen like a phoenix to attract an audience of loyal fans with their notable UK performances at Cornbury Music Festival, Crystal Palace Festival, Manchester City Football Stadium, LeeStock Music Festival, The Camden Assembly, Enjoy Wolverhampton Live!, TRAMP Mayfair, Northumberland Live, Atlas Festival, Rochdale Feel Good Festival, Morecambe Carnival, Pride Cymru's Big Weekend, Rivfest, & Manchester Academy 2. Sailing all around the map, they have had multiple successful singles along with their 2015 debut EP What Are You Waiting For. Now, they've followed it up with a new single "Life in Short", which has already achieved over 120,000 streams on Spotify.
Directed by Sitcom Soldiers, the "Life in Short" music video hails in front of a monochrome background, with the band front and center on the canvas. Red flashing lights act as the transition between various shots of the lead singer and band, calling back to the raw essence of The Rolling Stones. As they remind the listener to live life to its fullest, they take their time to craft their message in a bottle. As the video closes, they drown out life's negativity with their wonderfully crafted sonic perambulations.