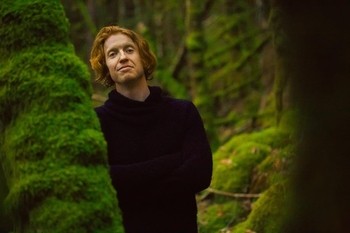 Already an accomplished multi-instrumentalist in the Grammy-winning act Arcade Fire, Richard Reed Parry is channeling different inspirations on his upcoming album Quiet River of Dust Vol. 1.The record is a dreamlike journey of immersive, gently psychedelic songs inspired by Japanese death poems and the folk music of the British Isles.
"'Song of Wood' started in Montreal on my porch in the rain, with a little loop from an iPhone 4 synthesizer app that doesn't seem to exist anymore," Parry explained of the songs origins. "I started writing something that I thought was going to be a folk-style 'riddle' song – 'gave my love a cherry that had no stone…gave my love a chicken that had no bone…' but it turned into something else. I finished it in upstate New York when my friend [Pulitzer Prize Winner and Kayne West collaborator] Caroline Shaw sang a bunch of very magical layers of vocals. There's a quiet moment close to the end that I really like, when you can hear a lot of cicadas that I recorded in a forest in Kyoto, Japan, with Andrew Barr [the Barr Brothers] gently playing pieces of driftwood."
Quiet River of Dust Vol. 1 will be released via ANTI- Records on the autumnal equinox, September 21. The first album in a two-part series, Quiet River of Dust Vol. 2 will be released on the 2019 spring equinox.