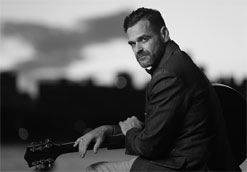 nIMO & The Light are leading us through the treachery of the open sea as well as the unknown. With a name inspired by 20,000 Leagues Under the Sea: A Tour of the Underwater World by French science fiction writer Jules Verne, nIMO & The Light are rising from the depths of Indie Nation and have become virtually impossible not to root for. Formed in 2013, their fans have traveled the distance for them on their voyage to break away from the local scene. With a dedication and passion for their musical stylings, they learned an entirely new language to spread their message of universal connectivity.
The band is composed of nIMO kALLY, Brian Karp, Shahar Mintz, Stefano Baldasseroni, and Chen Prat. They not only take inspiration from classic works of literature but also from musical greats such as Pink Floyd, David Bowie, Radiohead and Muse. They have played extensively around NYC and Tel Aviv, where kALLY worked as a radio DJ at two of Israel's popular radio stations. Kally brings fifteen years of music business experience to create sound that has a commanding quality. In 2013 they released the Espresso River EP; they are again raising their sail for their debut album DoNT FEEd tHE PIGEoNS due to be released in the fall. Their latest music video, "Skin to Skin", gives fans a taste of what is to come.
https://www.facebook.com/nimoandthelight/
"Skin to Skin" is a song about a forbidden love affair, between a high social class lady and her bodyguard. It opens with a black and white shot of Kally as he commands the screen, serving a stern look to the camera as the waves engulf him. Acting as a martyr for the cause, he calls out to his forbidden love. As color floods the scene, it transitions back and forth to images of a lady, wanting to break away from the background and her sheltered life. The video closes with uncertainty as the woman fades away. Although questions go unanswered, one can surmise they have found each other in the unknown.