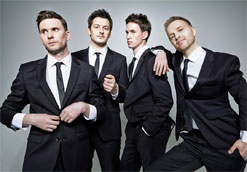 Biting Elbows isn't your traditional indie band. Their vast discography has a shared central theme of dark undertones, and they are known to turn deadly. Blood and gore are prevailing symbolism as they try to battle others through homicidal rages, eventually self-destructing in all their glory. They are aware that they have their demons, but instead of trying to cope with them they let it out in an unapologetic raw chaotic self-induced breakdown. Biting Elbows romanticizes and owns being an outsider; paired with their excellent songwriting abilities, this defines them as metaphorical anti-heroes.
With a blend of indie, punk, and rock, Biting Elbows has known how to craft a message, a feeling, and a unique sound for a decade; it's no wonder they've generated such a following. Hailing from Moscow, Russia they bring out all the best qualities of their rich musical culture and local scene to the big stage. Gaining inspiration from Sublime, Pixies, The Smiths, Rancid, The Clash, Franz Ferdinand, Pearl Jam, and Violent Femmes- they still sound distinctive. They experienced viral fame in 2013 with their music video release for "Bad Motherfucker" as it takes a first-person perspective into a trippy fight to the death, increasing intensity with every shot. Directed by Ilya Naishuller of Hardcore Henry fame, this video propelled them into mainstream American culture. They released their Dope Fiend Massacre EP in 2011, and their self-titled debut album was released the same year. Throughout the years they have released a series of respected singles including their wicked new track, "Love Song."
Not only is "Love Song" a carefully crafted metaphoric sonic masterpiece, the visual aspect of adds a whole new dimension and energy to this sick twisted love nightmare. Directed by longtime collaborative visionary Lado Kvataniya, the scene is set of not just a bad romance but a complete and utter disaster, as both parties try to piece the puzzles together of where exactly things went wrong. The video opens up in the pouring rain, as it shoots to the girlfriend- or now ex-girlfriend- totaling her lover's car in a fit of passionate rage as she unsuccessfully fights nostalgic memories. As the video goes on, one can begin to pick up the hint that the insanity wasn't just there at the bitter end – it was there the whole time. Not only was it a perfect illusion, her reaction signifies that it was rather toxic as well, altering her state of reality. She goes into a psychotic break for the entire video including a vodka-induced stabbing- turning the dark themes deadly. She is shown smiling after drenching her boyfriend in blood as she starts to see the person that he really is. Overall the main theme in this mini-movie trailer is that love is a serious mental disease.