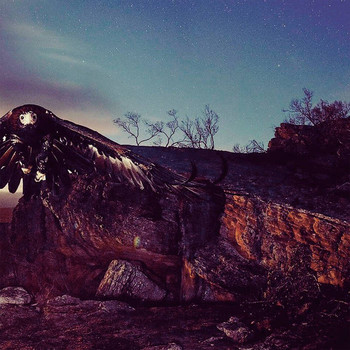 Morrison-Kincannon is the duo of Norman Morrison and Terry Kincannon. Upon first listen, these songs sound like loving throwbacks to folkish California rock of the 60s and 70s. Upon further investigation, though, this music turns out to not be a throwback at all, but actual vintage music from that era. Spacetalk Records began by re-issuing the single "To See One Eagle Fly." After which, Morrison mentioned there were hours of unissued recordings on his property. The result is Beneath the Redwoods, a 15-track album filled with wonderful music from that bygone era.
Although much of this music is gentle, acoustic stuff, the aforementioned single, "To See One Eagle Fly," is a rocking number featuring guitar interplay and a Steve Miller Band-like groove. The song's lyric is obviously of that time, as it speaks to freedom – and lack thereof.
While many of these songs sport lyrics, augmented by extended instrumental jams, others are purely instrumental. One titled "Dier Nier Niernt Niernt," which is all acoustic guitar, with plenty of fancy picking and bluesy licks. It's simply beautiful. One of the album's more amplified tracks is "On Mt. Diablo," which exits with a Santana-like guitar solo. "Freely" features elements that remind one of Seals & Crofts.
The gentle "I Believe That There's Good In this World" expresses the optimism of this period's generation. One wonders if the same feelings will be expressed by today's artists. There is so much negativity in the world, and music can't help but reflect that. "Summer Days," similarly, could pass for a Beach Boys anthem with just the addition of layered vocal harmonies. The song's lyric praises many of the best summer activities. Eating ice cream, skateboarding, surfing and just enjoying the warm, beautiful weather.
Listening to this high-quality music, it's just a shame it was hidden away so long. It's like keeping a pretty girl closed-up in the house. Yet now, she's been set free so we all can revel in her beauty. It also makes one wonder just how popular this music could have been, had it been issued in a more-timely manner. It easily matches the quality of so much music at the time.
It should also be noted how connected to nature Morrison-Kincannon's music was/is. "As the River Flows On," for example, includes lyrics that point out all the beauties of nature. The wildlife is breathtaking. This is not one of those ecological nature songs, which rails against the encroachment of man upon natural surroundings. Instead, it's just a thoughtful reflection upon nature and its specialness. The track ends with extended instrumental portion that is also slightly jazzy and meditative.
There's a saying: better late than never, but better never late. It's better that this music found the light of day, finally. Those of us old enough to remember the time that gave this music its birth will appreciate it. Perhaps those raised on contemporary sounds will enjoy its beauty and innocence. Whatever angle you come from, though, you'll likely find much to like about it. It's beautiful, like a walk through a redwood forest.
-Dan MacIntosh