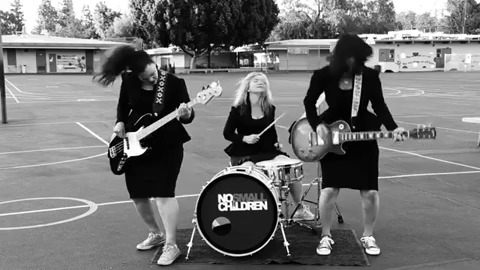 "I'm So Concerned," the latest music video from the teachers-turned-rockers, No Small Children. The cinematic black and white visuals pair with the band's raw and honest song to showcase their feelings as educators in modern-day America. "I'm So Concerned" will be out this Friday, August 3.
"I'm So Concerned' captures our worries as teachers about the world we're leaving for our students and the effects societal anxiety has on our youth. It also speaks to our desire to listen mindfully to our students to understand them and what they have to say." – Lisa Pimentel, singer & guitarist
"I'm So Concerned" is the latest single off their album, What Do the Kids Say?, co-produced by Lisa Pimentel and the legendary Bob Marlette (Rob Zombie, Black Sabbath, and Fliter). No Small Children have been on the road promoting the album, including a spot on Chicago's multi-day music festival, Riot Fest and the final Warped Tour.