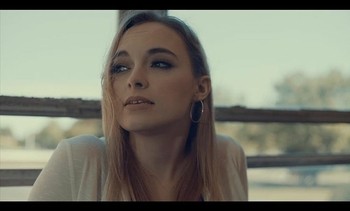 We are here on a Thursday and you can see the light of weekend coming. Today we have hooked up with a beautiful and talented young woman, Mindy Davey. Mindy is keeping busy this summer as she creates music such as "Morgan's Song" and takes on bullying as well. We expect to see much more Mindy Davey so lets all get familiar here!
Hi Mindy Davey, welcome to Skope Magazine. How have you been?
Can you talk to us more about your song/single "Morgan's Song"?
Mindy: Morgan's Song was a song I wrote and released for a young girl named Morgan, who was a victim to bulling to the point of wanting to end her life!
Is the song posted on Youtube, Spotify, Soundcloud, etc so we can hear it?
Mindy: Yea, the song is out everywhere on iTunes, Spotify, Google Play and Youtube!! All under Mindy Davey- Morgan's Song
Did any event in particular inspired you to write this song?
Mindy: I actually seen a story on Facebook on a site called Hope Rises about this young girl Morgan who was a victim to Bullying to the point of wanting to end her life. They we're starting a "Love Campaign" for Morgan so I did what I do best and took my emotions to paper and wrote her this song!! I wanted to make sure she knew she was loved and she does matter!!!
Any plans to release a video for the track?
Actually the music video for "Morgan's Song" comes out on August 25th on Youtube and Facebook: Mindy Davey Music
The single comes off your new cd – what's the story behind the title?
The story behind the title is bullying!!! The song was dedicated and named after Morgan a teen from the Albany NY area!! But in the song I also speak about my own experiences with bullying!!!
How was the recording and writing process?
The recording process was amazing!! I record at GCR Audio- Studio owned by Robby Takac from The Goo Goo Dolls!!! My producer Brad worked side by side with me and we put so much emotion into the song. I truly couldn't ask for a better team!!
Known for playing with different genres – how do you get to balance them together? Know matter if it's at live shows or just making a new song with different genres. I love to just keep a mix of songs of all genres.
Where did you find the inspiration for the songs and lyrics?
For me I think It's my experiences!! For this song in particular I was bullied growing up!! So I really connected to Morgans story!! But life experiences and listening to others experiences give me inspiration everyday!!!
Any plans to hit the road? We are headed to Duluth MN in September for a week long MN Tour!!! And early next year we will be headed to L.A.!! More cities will be announced as we go!!
What's one thing we'd be surprised to hear about the members of Mindy Davey?
Well I'm the only member of my group as well as my DJ!!! I think if anything would surprise you it would be I'm 5 years sober and a full time musician and mom!!! So live your dream everyday!!! You can do anything you put your mind to.
Name one present and past artist or group that would be your dream collaboration?
Why? Present artist I would say Jake Miller because I get alot of my inspiration from him as a female rapper/singer he has a similar style so for sure a collaboration would be sick!! For a past artist I would say Michael Jackson!! I mean he's the king of pop!!! His style and his voice!! Forever will live in our hearts!!!
Is there an up and coming band or artist you think we should all be looking out for now?
I mean I have heard alot of bands before but I think one right now thats crushing it in the country world is Eric Van Houten!!! Amazing artist and I just had the opportunity to open for him here in NY!! Amazing talented group!!
What else is happening next in your world?
I'm currently working with my team getting ready for shows across the United States as well as public speaking to raise awareness on Bullying!!! One city and one state at a time we will make a difference!!! Stay tuned to my website MindyDavey.com to see where I'll be next!!!