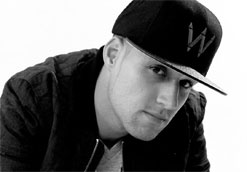 Originally from London, Jamieson has a natural British charm. He has been a songwriter, rapper, and producer since the age of eighteen and his experience steals the show. His records focus on personal battles such as betrayal, revenge, and discomfort crafted to carry a light tone. Jamieson battles his conflicting egos through his expressive music that has taught him strength in the face of disaster. Not only is he being watched, he is deeply connected with his spiritually- ultimately awaking his third eye which can be seen on his cover art. He doesn't define himself within a set genre but rather describes it as life- bringing gaiety to the universe on his own terms.
https://www.facebook.com/jamiesonmusic
Releasing a wide variety of music throughout the years, Jamieson has embarked on a journey throughout the music business with style. In 2007 his debut mix-tape The Foreign Exchange allowed him to be the first UK artist to have his own G-Unit Radio branded product. He followed up his victories in 2010 and 2012 as he released a trilogy of EPs entitled I Came, I Saw. He uses his Colombian and Scottish heritage for some Spanish-styled flare to his tracks; comparable to J.Cole, Mac Miller, and Bad Bunny, he incorporates hip-hop with a Reggaeton-inspired flow while simultaneously mixing metaphors and lessons in-between his quick shots and fast-paced delivery. Teaming up with French Montana, Jamieson has landed spots like SXSW in 2013, Think Pink Rocks, and Hot 97's Who's Next Music Showcase, and has performed with Flo Rida, Sean Kingston, and Mobb Deep.
In his latest music video for "The War", Jamieson goes into battle physically and metaphorically. Directed by certified hitmaker Joe Puma, the video opens up in full camo body paint as Jamieson and his regiment take on their commander's instructions. As the visual centers around the army, the lyrics scream a deeper truth, as he tells the struggle of the battle that goes on within his own mind. The hardships to find peace within his situation regarding the son he had out of wedlock is put to an end as his love for him inspires his strength. Not only does Jamieson bleed out to us on this track, he acts as a prophet to connect us in times of great weakness. They always say that the long game is the smart man's game and Jamieson stays winning.