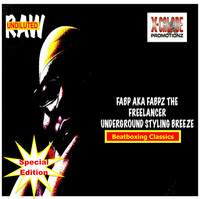 Right away when listening to this new release, I'm thinking back to the glory days of hip-hop without all of the fancy studio loops and auto-tune effects.  Fabp aka Fabpz the Freelancer is back to basics on the 14-track album titled 'Underground Styling Breeze'.  So, for that fact alone I give Fabp props for taking us back to what the real core of hip-hop was in the beginning.
What you get on this recording is just one guy spittin' lyrics and beatboxing without any showiness.  Just a guy, a voice and rhymes are all you need to get the 'Underground Styling Breeze' flowing in the right direction.  Fabp's style and tone reminded me a bit of the song "Wait (The Whisper Song)" by Ying Yang Twins because Fabpz the Freelancer dropped that quiet vocal that was like a Whisper and brand new "Flava in Ya Ear", (Craig Mack).  I loved the old school flavor Fabp was tapping into here on 'Underground Styling Breeze'.  With the current state of mainstream rap/hip-hop, I welcome anyone that takes the genre & art form back to its golden roots.
One thing that I did want to point out though is even though I like the simplicity of this record, I do feel that the album needed a little extra oomph.  Just like the late, great Prince sang about how "Life aint real funky Unless it's got that Pop"; that's the only missing ingredient here on 'Underground Styling Breeze'.  Fabpz the Freelancer nailed that classic, raw sound but now just needs that extra POP to bring it all home.  I do sense potential here in Fabpz and his latest project as he attempts to bring back and master the New York, Underground Hip-Hop scene once again!
https://x-caladepromotionz.bandcamp.com/album/underground-styling-breeze-fabp-aka-fabpz-the-freelancer
By Jimmy Rae (jrae2@att.net)