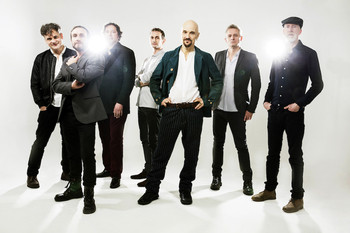 One of the UK's most creatively restless and most loved bands James are proud to announce the release of their new album 'Living In Extraordinary Times'. Scheduled for release August 3 through Infectious/BMG, the album is produced by Mercury and Brit Award winner Charlie Andrew (whose previous work includes alt-J and Wolf Alice) and rising star Beni Giles.
As their album release date approaches, the band released a live video for "Hank," taken from their forthcoming new album 'Living In Extraordinary' Times. The video, filmed live at Victoria Theatre Halifax, is a perfect example of the passion and emotion that drives the bands live performances. It sees them in fine form and typically outspoken, with Tim signing of "White fascists in the white house/More beetroot in your Russian stew" and "A jester prancing like a fool/In jest digest the monster/This president's a dangerous tool".
'Living In Extraordinary Times' follows the release of their recent Better Than That EP, the band's first new music since their hugely successful 2016 album 'Girl at the End of the World', which debuted at number two in the UK album charts, second only to Adele – their highest debut entry in nearly twenty years.