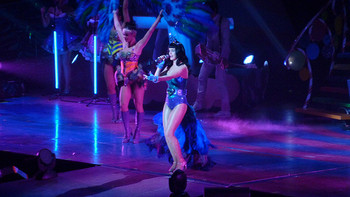 When it comes to themes in music, there are a few that have remained staples for decades. Love is a huge subject that is constantly being written and sung about in almost every genre you can think of, as are themes such as family and friends. Conversely, partying and racking in plenty of cash seem to have become popular song topics over the last few decades, which leads us to the surprising pop music staple that is casinos. Believe it or not, there are plenty of casino-themed songs out there and here, we thought we'd list some of the very best ones ever written.
1. Luck Be A Lady – Frank Sinatra
Let's start off with one of the biggest casino fans of all time: the man, the myth, the legend, Frank Sinatra. It's said that Sinatra spent much of his adult life in Las Vegas, particularly during the 1960s, visiting casinos up and down The Strip. We imagine that if our dear Frank was still around today, he'd still either be performing at clubs or working with some modern, big internet or mobile casino online and off because he loved the classic table games so much. Clearly, he was the best choice to play Nathan Detroit in Guys and Dolls, as well as to perform this "Luck Be A Lady".
2. The Gambler – Kenny Rogers
Like Frank Sinatra, Kenny Rogers released a number of hits throughout his lengthy music career. Some classics include "Islands In The Stream", "Through the Years" and "You Decorated My Life", but no song is as perfect for a casino than "The Gambler". Released in 1978, the anthem tells the legendary tale of a chance meeting with a mysterious casino fan who he once met on a train. The man proceeds to give Rogers a few life lessons, perhaps most notably: "You've got to know when to hold 'em, know when to fold 'em." Feel free to carry on singing before you move to the next song on our list.
3. Waking Up In Vegas – Katy Perry
Now, let's get a little more contemporary in our casino classics. Though it feels like this song was only released a few months ago, it actually came out almost a decade ago in 2009. Based entirely around the known, societally agreed on the idea that what happens in Vegas stays in Vegas, Perry's hit will certainly be a casino anthem for years to come. It's the song and music video equivalent of The Hangover, with every sort of fiasco befalling the pop star. It's a great song and maybe even a better music video.
While these may be our top three, we certainly think it's worth adding some honourable mentions. There's "Deuces Are Wild" by Aerosmith, the 2015 Mumford & Sons hit "Snake Eyes" and of course, "Viva Las Vegas" by The King himself, Elvis Presley. There are literally dozens of other casino-themed songs to choose from, so please let us know your favourites in the comments below if we've missed them out!