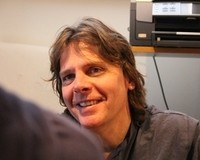 Gordon Thomas Ward offers a delightful take on folk and country with the tender "Providence EP". Proving to be a deft storyteller, Gordon Thomas Ward sings with such crystal clarity. Over the course of the EP guitar playing possesses tremendous strength, whether it is the emotive acoustic take or the dreamier, spacious scope of the slide guitar. Done with the utmost of confidence Gordon Thomas Ward speaks straight from the heart offering a warm welcoming presence. By opting for such a tact, Gordon Thomas Ward's singing recalls the similar vocal stylings of the Decemberists' Colin Meloy. Quite thoughtfully, Gordon Thomas Ward embarks on a grand journey, one that helps to tie everything together in a most perfect fashion.
Epic in scope things start off in a stately manner with "Acadia Lament – Names Into Stones". Sprawling, the way that Gordon Thomas Ward lets the piece unfurl reveals a true ear for melody and tremendous attention to songcraft. By far the highlight, the whole band lets loose a little bit, letting everything explore such wide swathes of territory. Things slow down a bit with the reflective "Destiny". A light theatrical air is woven into "Just One More". Going for a bit of folklore "The Horseman" has a stark beauty to it. Graceful guitar helps to conclude the collection with the confidence of "One Kiss".
With "Providence EP" Gordon Thomas Ward delivers a beautiful series of snapshots of a life lived to the absolute fullest.
http://gordonthomasward.com/music/providence.html
By Beach Sloth