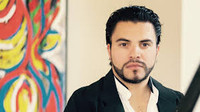 In his new single "La Bikina" from the forthcoming album Piano Meets Mariachi, Esteban Alvarez presents us with the duality that exists within the parameters of contemporary Latin ambient music. On the one hand, we have a scene that is feverishly attached to its roots and preserving the rich textures that they've provided us with for centuries. But that fever is quickly becoming a concern as artists struggle to keep the pace with some of their competitors in the music business. On the other hand, we have the innovators within mariachi that are pushing the limits the same way that the legends before them did, and while they're getting plenty of pushback from the establishment, their experimentation is ultimately yielding the sound of tomorrow's Latin pop. "La Bikina" lives in the place between these two powerful, loud voices, and it is we the audience that plays victor of the spoils of their warring.
For those of us who consider ourselves aficionados of the genre, Esteban Alvarez is a straight up game changer. With a command over the keys that is not dissimilar to Liberace, he conducts a symphonic ocean of intricately assembled tones and sounds on Piano Meets Mariachi in a way that is nothing short of breathtaking. Instrumental albums often have a hard time selling themselves to the mainstream, but I dare even the pickiest of record-consumers to give it a spin and find a boring moment. It's just not there; Alvarez goes above and beyond when it comes to making sure that every one of his tracks contains a unique identity that is equally respectful of mariachi's historical past and yet cunningly forward-thinking when looking towards the future of the sound.
Stylistically, you could argue that in many ways Piano Meets Mariachi isn't trying to reinvent the wheel. But that's the beauty of it; Alvarez finds a way to put an elegantly lush and stunning gloss onto even the most tired of song structures. This is not your mama's mariachi music for certain, if anything, this is boundlessly avant-garde and has absolutely no inhibitions about going places, sonically, that few of its contemporaries would ever dare to travel. I'm not surprised my peers have been buzzing about this upcoming release and "La Bikina" in particular for a while now – and you can only imagine my embarrassment of having just now learned of this fascinating artist.
Without question, if you have a cultured ear of music, then "La Bikina" is a mandatory track in 2018 that demands your attention. Further, if Esteban Alvarez is a new name to you, or even if his style of music is a little different from what you normally go for in the record store, you're going to want to familiarize yourself with his persona. This is an artist that I can almost guarantee that we're going to be talking about a lot more as we enter the next decade in popular music, and once you've heard his dexterous compositions, you too will see why.
Thomas Patton, III