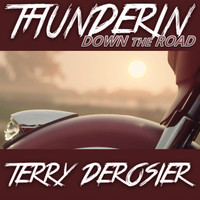 Hailing from northwestern Minnesota, Terry Derosier's journey into the professional music world began in 2014 when he fell off ten foot high scaffolding and landed on his head. The severe brain trauma experienced as a result of that fault ended his successful career heading a large construction company, but another door opened. Derosier soon began to experience a creative outpouring with songs emerging from his consciousness nearly full flower. His new EP Thunderin' Down The Road is an apt description of his creative life since that traumatic flaw – it is as if something were unleashed in that moment and continues to bear fruit for this talented country rock artist. He's drawn favorable singing and writing comparisons as a mix of John Mellencamp and Johnny Cash, but the songs on this album prove he is much more. Instead, Derosier is an individual talent carrying the mantle of authentic music and storytelling to a new generation without ever seeming imitative in any way.
The simmer opening the title track and EP's first song is colored with some equally tasteful organ passages bubbling out of the mix. His writing is billed as picturesque and that's an adequate description but, in truth, his talents extend much further. The talent he has for making a song even more real thanks to specific sensory details vividly comes across in this number and the music provides perfect accompaniment for it. He ramps up the intensity for an especially memorable chorus. The mid-tempo rollicking of "Restless Dream" is propelled by urgent drumming and strong acoustic guitar, but the vocal presentation will win you over even more. Effective backing vocals join with Derosier's singing to lend a little added sweetness to the track. The melodic strengths of the song are impossible to ignore.
Those same melodic strengths are on display with the song "Ten Thousand Ways" and some female backing vocals enhance the track's light touch. There are some swaths of electric guitar cutting through the mix, but they are never obtrusive and splash the song with vibrant colors. Derosier's skill with sensory imagery continues here and achieves notable effects. Country and blues collide some with the EP's penultimate track "Carolina Always on My Mind" and there's emotional gravitas powering this performance without ever sounding overwrought. Derosier concludes Thunderin' Down The Road with the song "Hot Summer Sun", a pure classic country number complete with lively fiddle and a confident, playful vocal helping to end the EP on a easy going celebratory note. Derosier's talents are unquestionable and these songs, indeed, seem to emerge naturally from his creativity rather than sounding labored or straining for effect. Anyone who values unaffected, intelligent Americana or classic country will find Terry Derosier's Thunderin' Down The Road satisfying on every level.
By – j.hillenburg@comcast.net