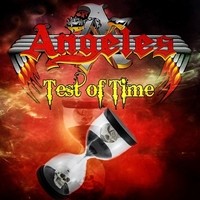 Bongo Boy Records & ANGELES goes for an untamed, unhinged sound with "Test of Time". Reminiscent of the best of hard rock like Van Halen, the whole of the album feels life-affirming. Volume literally has a physical presence to it. Guitars scream up into the sky showing off their undeniable chops, with riffs adorning every single track. Everything neatly comes together into a singular, unified vision while the whole of it goes for a fantastic journey through some incredibly creative twists and turns. Nothing remains for certain for long while the multiple layers opt for a grand display of color. Lyrics have a great deal of playfulness for vocals opt for a commanding presence.
https://store.cdbaby.com/cd/angeles52
"Not Here To Play" opens up the album with a positively colossal sound. With "Hollywood" everything comes to a fevered pitch, while guitars intermingle in a perfectly ornate, masterful fashion. Going for a little bit of tenderness the reflective "Goodbye" shows of ANGELES' softer side. By far the highlight of the album comes with the careening cacophonous spirit of "We're No Angels", for the entirety of the work rushes forward in a brilliant blur. Letting loose "Nothing Left To Gain" goes for an exploratory approach. A bit of folk enters into the mix on "Lonely Road". Heavy to its very core "Deliver The Goods" embraces a sense of adventure. Reflective closer "Little Bit Faster (Remix)" neatly ties the whole album together on a high note.
Artist Page: https://bongoboyrecords.com/angeles/
Official Band Web Site: http://www.angelesband.com/
On "Test of Time" ANGELES delivers a feral sort of rock n' roll, one that holds nothing back.
By Beach Sloth