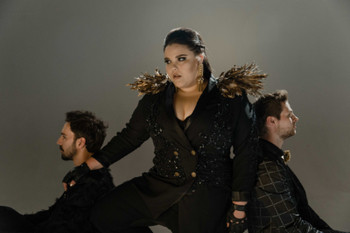 Doncaster's finest Bang Bang Romeo are back with their brand new single 'Shame On You'. Having just signed a worldwide record deal with Eleven Seven Label Group, the female-fronted alt-rock trio are excited to share the next wave of music from their eagerly anticipated debut album, which is due for release this October via Five Seven Records.
With an electrifying chorus, 'Shame On You', continues to demonstrates a band on the rise. They explain, "'Shame On You' is about two negative magnets constantly drawing themselves to one another. We know it's going to end in tears, waking up the morning after with a broken heart, but we're each other's doomed 'Ying and Yang', and that's just the way it is."
It follows on from the previously released tracks 'Chemical' and 'Natural Born Astronaut', which earned them support from Huw Stephens (Radio 1), Tom Robinson (BBC 6 Music), Virgin Radio and Radio X as well as acclaim from NME, The Sun, The Daily Star, The Independent, Clash, tmrw magazine, Louder Than War and even Black Sabbath's Tony Iommi.
(Photo credit: Ellie Mitchell)