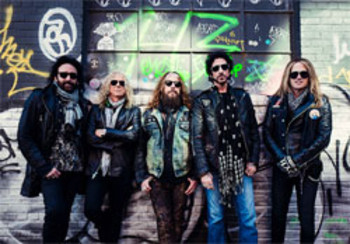 The frontiers of rock and roll have gotten together to bring life back into a supposedly dead genre. Gaining inspiration from the 70s and early 80s rock and metal. The Dead Daisies hold the torch for rock and roll as we know it. The band is composed of members from highly prestigious rock bands such as Whitesnake, Dio, Mötley Crüe, The Scream, Thin Lizzy, Journey, Bad English, Hardline, Red Phoenix and Mink. They blend their backgrounds and influences to produce a sound that is heavy in rebellion, goes hard in the lyrics, and displays introspective visuals for a perfect collective and conceptual image.
Since 2013, The Dead Daisies have paved their own path for success. Currently, the band is comprised of guitarist Doug Aldrich, singer John Corabi, bassist Marco Mendoza, drummer Deen Castronovo, and rhythm guitarist David Lowy. Their discography is complete with four studio albums with the most recent, Burn It Down, released this spring. Obviously extremely talented, dedicated and passionate about the real art behind music sonically, visually, and creatively they're respected as "Rock Gods." The Dead Daises have been touring the entire world regularly, playing festivals like Download UK, Hellfest France, Graspop Belgium, Sweden Rock and the Wacken & Band Your Head Festivals in Germany. Working alongside prestigious bands such as Aerosmith, Lynyrd Skynyrd, KISS, Def Leppard, and many more, it was no wonder why they were the first American rock band to be let back into Cuba after the embargo was lifted.
Like any prestigious rock band, visuals are clearly highlighted throughout The Dead Daisies' entire discography. Their video for their latest single, "Rise Up" (currently top 40 on the Active Rock charts for both Media Base and BDS) is a commentary on the world we live in today. The viewer sees how poorly humans treat the environment as quickly the environment rebels. With shots of hurricanes, forest fires and heavy pollution, one is forced to look at the self-fulfilled prophecy of complete destruction and irreversible damage. To emphasize this, there are flashes of popular television cartoons holding guns. These anti-heroes can be classified as one of the causes of manipulation since children are watching shows with such graphic and explicit content. The video then transitions in between shots of children smiling, signifying a loss of innocence they will soon have as they become more conscious. Once they take off the mask they are no longer blind to these injustices but is it too much to see? Flashes of political leaders and celebrities are then shown with black covers over their eyes that accentuate the lyrics, "Oh why the blind keep on leading the blind" making it a perfect visual aspect to their record. "Rise Up" then comes to an end in a very real but unexpected positive way, showing real people who can make a change.